Other credit ratings agencies may have reaffirmed their faith in the United States' credit worthiness but the fallout from Standard and Poor's downgrade is yet to be fully known, especially for state governments.
S&P is expected to revise many of its state government credit ratings later this year and because the ratings vary by state, the effects of potential downgrades will be felt differently between state governments. In a map provided by the Tax Foundation using information from Stateline, it's plain to see that while the U.S. was once a AAA rated nation, as of July 15th this year, many of its states aren't.
Still, the big picture for state governments since 2001 has been a mostly positive one. According to Stateline, 33 states have been upgraded over the last ten years while 25 have been downgraded. The S&P promoted six states this year alone, including Wyoming and Nebraska, who have been awarded AAA ratings, in part, due to "a very strong performance throughout the past recession," S&P told Stateline. Other states have had a AAA rating for decades such as Maryland, who's maintained its top-level rating for 50 years.
But recent bad news for state and local governments remains hard to ignore. Earlier this month Central Falls, RI was forced to declare bankruptcy due to $80 million in unfunded pension and retiree health benefits. Jefferson County, Alabama also remains perilously close to default.
In fact, it's governments with struggling budgets like these that are most vulnerable to a downgrade because it will make borrowing money even more expensive.
"The governments that should truly be worried aren't the AAAs that almost by necessity are going to be downgraded a tick or two," David Johnson, a partner at the Chicago-based ACM Partners recently told The Huffington Post. "It's the cities and municipalities that were already in trouble."
California, with the lowest rating of A-, Illinois, with the second-lowest rating of A+, and New Jersey, downgraded to AA this year, all count among the most vulnerable to a downgrade.
But downgrades would have a serious impact on everyday Americans across the board, Frank Shafroth, director of the Center for State and Local Government Leadership at George Mason University, recently told The Huffington Post.
"[Downgrades] translate into a significant rate increase and a significant tax increase on hundreds of thousands of Americans," he said.
Below is a map showing the credit ratings of the United States 50 state governments provided by the Tax Foundation: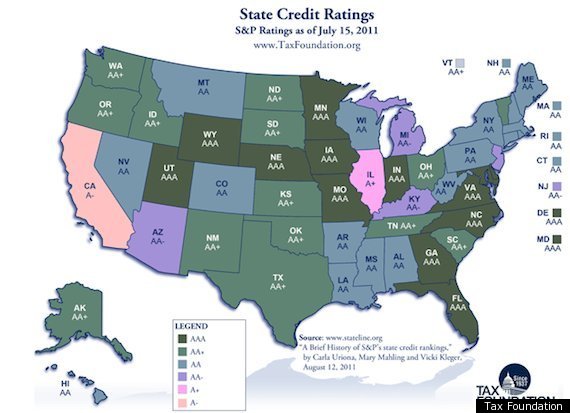 SUBSCRIBE TO & FOLLOW THE MORNING EMAIL
Start your workday the right way with the news that matters most. Learn more