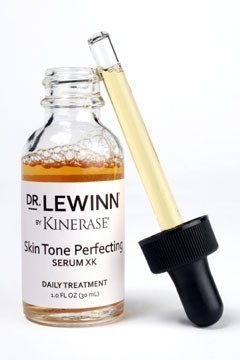 By: Bobby Doherty
Hyperpigmentation and dark spots have often forced me to layer on cream-to-powder foundation to avoid embarrassing glares. I've also tried fading creams, facial peels and good old cocoa butter to renew my dark skin.
While I've seen improvement over the years, very few skin care products have landed on my desk and produced eye-opening results like Dr. Lewinn by Kinerase Skin Tone Perfecting Serum XK.
This liquid gem is formulated with five key ingredients: Kinetin, the brand's super anti-oxidant plant complex which exfoliates and diminishes fine lines and wrinkles; Sepivinol, a red wine extract that helps to prevent future aging; hyaluronic acid, a known natural moisturizer; Sephiwhite MSH, an inhibitor that blocks pigmentation and SymWhite, a potent lightener that targets UV-induced skin coloring.
While the blend instantly reads impressive, it only took two weeks of applying tiny drops to my face each morning post-cleansing to notice unblemished skin. Discoloration on my forehead and cheeks have lightened and my complexion is supple and radiant, making me feel more confident to step out sans cover-up.
Dr. Lewinn by Kinerase Skin Tone Perfecting Serum XK, $33, drlewinnbykinerase.com