BART Protest Animation Released: NMA Is At It Again (VIDEO)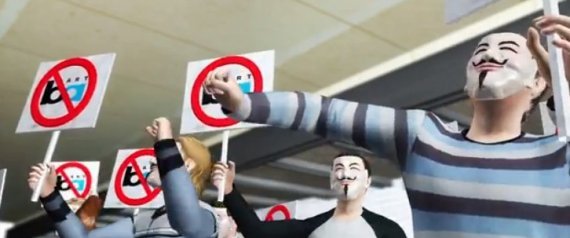 Next Media Animation (NMA) is at it again.
After releasing last month's amusing cartoon chronicling San Francisco's Airbnb burglary, the media group has targeted a new local sensation: the BART crisis.
(SCROLL DOWN FOR VIDEO)
In a minute-long animated video, NMA summed up the recent weeks in the underworld, complete with anime vendetta masks and a Matrix-style gunfight between an Anonymous protester and a BART officer dressed a bit like a storm trooper.
The Taiwan-based company, NMA, has gained quick popularity for its satirical — and oftentimes vulgar — animations of real-life news stories, complete with a tongue-in-cheek tagline: All the news that's fit to animate. And lately, it's got its sites set on San Francisco.
So what's next, NMA? Jerry Brown's Newsom sidestep? James Franco's adventures in SF porn? Guy Fieri's Lamborghini heist? (Oh please, oh please…)
Check out NMA's latest video, "Anonymous takes on BART over cell phone shut down" in the video below: