When the Environmental Protection agency announced Monday that they would extend more than $2.6 million in grant funding to the Great Lakes Restoration, including $1.1 million earmarked for the Chicago Park District to protect and improve water quality at city beaches, the city knew exactly where they would direct some of that money: putting more Border Collies on the beach.
E. Coli contamination has caused 123 swim advisories so far this summer, where patrons are recommended to swim with caution, and 36 bans where beachgoers were kept out of the water altogether. The main contamination culprit is seagulls, or, more specifically, their waste, according to Zvez Kubat, a Park District spokesperson. A $700,000 grant from the EPA last year was used to launch several initiatives to decrease the presence of gulls on beaches, including beach ambassadors who circulate the city's 24 swimming beaches educating patrons on how to reduce their impact, and new signage and marketing materials.
But one of the most effective strategies the Park District has found to reduce the presence of seagulls and lower instances of water contamination has been the Border Collie pilot program implemented at 63rd Street beach this year. While the Jackson Park waterfront logged more than 40 days with swimming restrictions last year, the particularly high-risk site, which faced an increased risk of contamination due to this summer's heavy rains, has lowered that number to 8.
A heavily-trained fleet of uniformed Border Collies patrol the beach with biologists as handlers and shoo away disease-carrying seagulls, to the delight of beach patrons and the dogs themselves, who enjoy the chase and do not harm the birds, Kubat says.
"They're trained so well," said Cathy Breitenbach, Director of Lakefront Operations at the Park District. "They see gulls and they just want to chase them, and people love to see them in their little uniforms out there."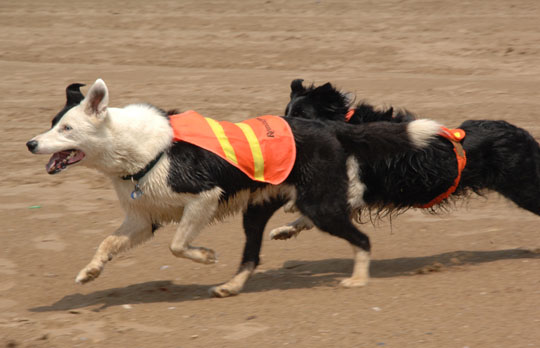 Collies on patrol.
The $1.1 million grant will be funneled into 3 separate projects next year. A beach management program will support outreach and education initiatives as well as the Border Collie program, and fund new beach grooming equipment to lower the risk of bacteria. At the 63rd Street beach, where water circulation is inhibited by the shallow water and far-reaching piers on the shore's boundaries, EPA funding will be used to "punch a hole in the pier, so the water flows through better, which will improve the water quality," Breitenbach said. The third project involves the creation of a protective barrier that will keep out some sources of bacteria, including organic matter, like decomposing plant material, that may wash up from outside the city.
Some of the EPA grant will also be directed towards the development of predictive indicators on water quality. The Park District is currently exploring the use of buoys and weather measurement tools to collect data that could help them better anticipate high bacteria levels, and plans to launch an intensive sampling of rain water to establish a relationship between rainstorms and water contamination.
"It turns out you can predict bacteria levels in water using environmental parameters like wave height and weather, which will allow us to have real-time information about contamination instead of lab reports, which have an 18 hour lag time," Breitenbach said.
The EPA grant includes flexibility to explore other options to reduce the number of days water use is restricted, in addition to the fleets of a different kind of Border patrol.