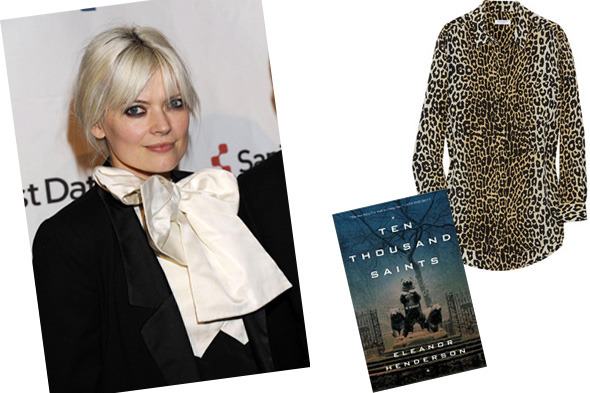 Celebrity stylist Kate Young, who counts Natalie Portman and Alicia Keys as clients, ranks among the industry's top talents. This year, the Vogue alum -- she was Anna Wintour's assistant -- has taken on challenges such as dressing a pregnant Portman for her "Black Swan" awards season rounds and teaming with Cardigan's Lynne Hiriak on a capsule collection. We checked in to find out what's on Young's sartorial radar.
If you could have one superpower what would it be?
Flying
What's the last song you downloaded?
Light Asylum, "Dark Allies"
What's the last thing you bought that you loved?
I just got a leopard shirt from Equipment that I'm obsessed with. And I ordered a pair of Pierre Hardy boots from Net-a-porter and they should be here any minute. I cannot wait.
What was your first designer purchase?
Gaultier midnight blue satin jeans with skull and crossbones all over them. I still have them, but don't wear them ... currently, anyway.
Facebook or Twitter?
Neither
What are three adjectives to describe your style?
Such a hard question -- always boils it down to a cliche.... but "modern, edgy, classics."
What's your rule to dress by?
Don't try too hard.
What trend do you hope dies?
Maybe it's not a trend -- more of a movement -- but thin jersey T-shirt tops in bright colors with a ruffle or some other mundane detail on women whose bodies aren't flattered by thin stretchy jersey.
What item do you wear every day?
My wedding band.
If you had to wear clothes from one decade only, what would it be?
Now.
What was your first job/internship?
Intern at Lynn Franks PR in London. "Absolutely Fabulous" was based on her -- it was amazing.
What's on your summer reading list?
i just read "Ten Thousand Saints" and "State of Wonder" -- both were amazing. I'm going to read "House of Holes" next.
Ideal summer travel destination?
Swedish coast
What's on your nightstand?
Stacks of half-read New York Times magazines, and New Yorker magazines, articles on Waldorf education, a Mariel Sparks novel that I haven't finished, Egyptian magic, a glass of water, a bunch of my kids' stuff -- a binky, a toy car, calendula baby cream and a chic lamp that I love by Christian Dell.

FOLLOW HUFFPOST