It's All In The Wrist: Fashion's Finest Show Off Their Stacked Bracelets (PHOTOS)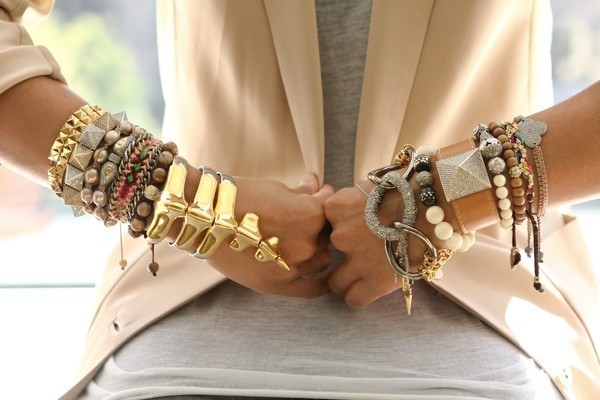 Rachel Strugatz, Accessories News Editor, Women's Wear Daily
Photo courtesy of Refinery29
Minimal trends be damned! This season, fashion's elite are opting for an excessive approach to dressing -- more specifically to donning accessories.
During Fashion Week, while models took the runway in sleek cuff and simple bangles, insiders like Marie Claire Accessories Editor Taylor Tomasi-Hill sat front row with their wrists littered in all sorts of bracelets and bangles. From beaded to braided, covered in rhinestones or rope, there's one thing that everyone can agree on: more it more!
And our friends at Refinery29 noticed that these pieces are much more than a statement, it's about sentiment. They interviewed over 20 stylish folks in NYC who love to layer. What did we learn? That summer camp-era friendship bracelets are back, studs are almost essential and eye-catching pieces like railroad spike cuffs by Giles & Brother are the perfect mix of quirk and cool.
Our advice, if you need to add a watch to the mix, make sure it features a large face -- otherwise it will get buried beneath your twine, chains and charms.
Make sure to head over to Refinery29 for even more photos. And if you love the look, check out this selection of bracelets to get your started.