The athletes -- Shaquillle O'Neal, Venus Williams, Eli Manning And Apolo Ohno -- comprise Team DSRL, for Double Stuf Racing League. They will be star in TV and print ads depicting a speed Oreo eating competition, in which entrants race to lick, dunk and eat Triple Double Oreos the fastest. It sounds almost like a fraternity's drinking game, only with less Natty Light and more chocolate creme filling.
Here's a behind-the-scenes video from the making of the campaign.
And here, in case you haven't seen them in stores, are the Triple Double Oreos: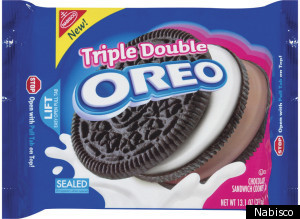 SUBSCRIBE AND FOLLOW
Get top stories and blog posts emailed to me each day. Newsletters may offer personalized content or advertisements.
Learn more