There are signs that a missing American student who was traveling alone in Malaysia has been found -- and Facebook may have played a large role in his discovery.
Jacob Neil Boehm, 22, a rising senior at Stanford University, was reported missing Friday after his regular correspondence with friends and family suddenly stopped after six days.
Hailing from North Carolina, Boehm is 5'11'' and thin, with curly brown hair and glasses. He was last seen in Jerantut, a city in the Pahang District of Malaysia.
Boehm arrived in Japan in June to perform in a two-week tour with the Stanford Chamber Chorale. But when the rest of the singers headed home, Boehm flew to Thailand, with plans to travel the East Asian countryside.
"Exploring wasn't something new to Jacob," his classmate and fellow Choraler Julian Kusnadi told The Huffington Post. "After our sophomore year, he took a year off school to travel the world." Boehm volunteered in Cuba, did stage lighting in Central America and worked with the local food movement for five months in Portland, Oregon.
"He's very independent and very comfortable meeting up with folks, talking to them and seeing what they're about," said Bruce Boehm, Jacob's father. "He is quick to get out of the tourist traps and really see the obscure parts of countries."
Although Boehm didn't have a set itinerary for his trip, he had been publicly sharing his journey on Google maps and posting regularly on his Google Plus page. His most recent post, dated Aug. 10, contained pictures that showed an excursion to pick Rambutan and Durian fruit from trees, bowls of "delicious chicken foot soup," and Boehm sitting on the ground surrounded by the Thai students he taught.
When the emails and updates stopped coming, his parents began to grow concerned. After six days of silence, his mother and father filed a missing person report. They began communicating with the local Malaysian police, as well as the American and German embassies (Boehm is a dual citizen).
Yet early Saturday morning, Boehm's parents got word that rangers at Taman Negara National Park in Malaysia had found an entry record from their son. Taman Negara, which covers a total area of 4,343 square kilometers, is the world's oldest tropical rainforest. There is no cell phone reception in the park. Based on the entry record, authorities expect Boehm to emerge on Aug. 23.
After hearing the news, Bruce Boehm sent an email to those who assisted in the search efforts, writing, "Early this morning we got a note from the US Consul in KL [Kuala Lumpur] saying that a person on his staff had actually talked to Jacob using some sort of 2 way radio that works in Taman Negara national park."
Using Social Media To Mobilize
Shortly after reporting Jacob missing on Friday, Boehm's parents emailed their son's friends to enlist their assistance.
"We sent a message saying, 'We don't know Facebook like you guys do, can you help?'" Bruce Boehm told HuffPost.
Embracing the spirit of Silicon Valley, Beohm's Stanford classmates immediately launched a massive social media campaign to find their friend.
"Do you know anyone in Malaysia?" the page reads. "Feel free to post, invite, and forward as you see fit. If you have other ideas on how to continue the search, please pursue and share them."
Six hours later, the event had 3,000 attendees.
Friends, Stanford alums and strangers immediately began posting offers to help: "I land in Kuala Lampur Sunday night -- what can I do?" Jake Fuentes wrote. Others offered to call hostels, use their contacts in Malaysia, and have family members put up posters with Boehm's photo on them.
Misha Nasrollahzadeh, 19, is a rising junior at Stanford and is currently interning at Facebook. Although she doesn't know Boehm, she immediately wanted to help.
Nasrollahzadeh, a Michigan native, was struck by the Boehms' request for assistance with social media. "I thought, I work at Facebook, they need help and he's part of the Stanford family," she told HuffPost. "We all get credit to run Facebook ads once a month, so I reached out to co-workers and we pooled our credits to help."
The ad they created, which ran in both English and Malay, targeted users in Malaysia and other regions in Southeast Asia: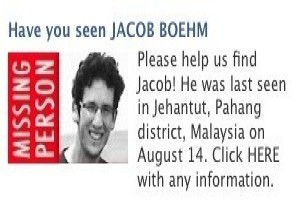 On Saturday, Jacob's mother, Nancy Luberoff, posted a message on the wall of the Facebook event thanking people for getting involved.
"The information that we have received on Jacob's whereabouts has come about directly as a result of this extraordinary facebook community," she wrote.
Bruce Boehm echoed that sentiment in his Saturday email, writing that Facebook had been instrumental in mobilizing efforts to locate Jacob.
"Many thanks for all the efforts you put into this project," Boehm wrote. "The Facebook effort surfaced a Malaysian student at Stanford whose dad works in the Prime Minister's office. It appears that his connection coupled with the hard work of the US Consulate surfaced Jacob so quickly."
"We are forever grateful for your help."
SUBSCRIBE TO & FOLLOW LIFESTYLE
HuffPost Lifestyle is a daily newsletter that will make you happier and healthier — one email at a time. Learn more