OK Go Debuts 'Muppet Show Theme' Music Video And Gives Us Their HuffPost Playlist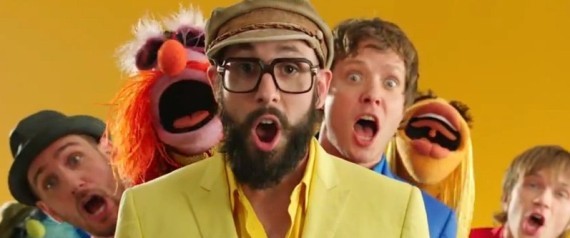 When it comes to feel-good viral potential, it's hard to think of a more potent duo than the band OK Go and the Muppets.
As performers on The Green Album, a collection of Muppets covers by artists including OK Go, My Morning Jacket and Weezer, the band behind the acclaimed "treadmill video" for "Here It Goes Again" got the chance to film another music video with Kermit the Frog, Miss Piggy and their assorted friends.
The Huffington Post caught up with lead singer Damian Kulash at the 2011 Outside Lands Music Festival in San Francisco, where the band performed to an estimated audience of 45,000 at the festival's main stage. Kulash, an affable man with a Gap-clean aesthetic, who is clearly comfortable chatting with reporters, was eager to talk about the upcoming video and just how great it is to be on their own label, Paracadute.
"There is no way to overstate the difference" between having a big label and being on their own label, Kulash said. While he says the band was "very lucky" to have had the support of a major label (EMI, Capitol) and admits they probably wouldn't be where they are today if it weren't for that support, he's clearly identified what he sees as the main downside to the corporate support: "When you're on a label, your goals have to be aligned with theirs, and their goals have to be fairly uniform across a large number of acts or artists, and it's pretty antithetical to the way that we -- and I think a lot of creative people -- like to work, which is to do the things that excite you now and see what turns up."
The band felt as though they were at an impasse where they could no longer accomplish all they wanted to do. "We've done eight to 10 videos since our last album came out," Kulash said. "We never could have done that on a major label, because the money never would have been there."
"Plus," he added smiling, "the Muppets are on a major label [Disney], so it would have been way more complicated if both of us brought these huge labels to the table."
Their Outside Lands set was predictably well-received by the massive, sun-drenched crowd in San Francisco, which is to say that OK Go's vibe is about unpretentious fun. If anyone was annoyed by the somewhat hokey walk-on introduction the band uses (a bass-laden computerized voice demanding that the crowd chant their name before they took the stage) or by the band's somewhat pained stage banter ("You're so dirty San Francisco, you hotbed of sin. We're going to clean you up"), few seemed incensed enough to shout their disappointment or leave the area for one of the smaller stages.
And if they don't have thousands of diehard festival fans, everyone seemed pleased enough to see the band "from the music videos" do their thing in person.
Kulash, who has said he moved from Chicago to Los Angeles to "follow a girl," had a hard time selecting just one of their videos when asked to recommend one to the viewer who has yet to see any of them.
"I'm so excited on what we're working on right now, so if I had to suggest anything that anyone watches, it would be this one because, I mean, it's the f***ing Muppets!" he said. "But I'm also maybe most proud of the 'All Is Not Lost' video that we did with the dance group Pilobolus."
As for what else the band has up their sleeves, the frontman said they're writing new music and working on yet another video with a top secret director. They've found a happy balance between making videos and writing music, and Kulash said he finds criticism that paints the band's obsession with music videos as indicative of a lack of commitment to their music baseless.
"The biggest difference is not whether or not it's audio or visual, it's just whether there are a lot of people around -- for the videos -- or just a few of us writing the music," he said. "We all basically make ones and zeroes now, so whether they come out as just sound or just pictures or both -- it's a blessing that we don't have to choose. It's growing even more ridiculous to draw the line between these mediums. Do you think The Beatles would be saying 'no, this has to come out on a seven inch' right now?"
Kulash has also been dabbling in production, assisting his longtime friend Becky Stark with an upcoming Lavender Diamond album that he says will be "very sad and very beautiful." When asked if this signaled a career move of sorts, he said he didn't see himself becoming a full-time producer.
"Imagine someone comes to you and says, 'Do you want to be in the next Coen brothers film?' You'd absolutely want to be in that movie," he said. "But then they say 'Do you want to be an actor?' and you'd think, 'well, I don't want to have to do press junkets and make my way through an absolutely shitty system.' So I don't have any desire to make it in the very competitive world of producing, but this stuff is just absolutely incredible."
OK Go has enjoyed a very modern (read: highly trafficked) form of success, and it will be interesting to see how the quartet will keep its fan base stimulated. Now in their 13th year of music-making, one wonders how long the fun videos will captivate audiences. For now, the boys seem content with dance troupes and Muppets -- and who can blame them?
WATCH: OK Go & The Muppets - The Muppet Show Theme Song

Next, check out the band's exclusive HuffPost Playlist