Stuntman Freddy Nock Walks Up Germany's Highest Cable Car Without A Net (PHOTOS)
Stuntman Freddy Nock knows the importance of balance in life.
But that doesn't stop him from testing the boundaries.
Nock, 46, a Swiss stuntman, just managed to walk 3,280 feet up the cable holding Germany's highest cable car using neither a balancing pole or security harness, according to the Daily Telegraph.
The cable was only two inches thick and Nock gained 1141 feet in altitude during the 80-minute climb to the 9,000-foot summit of Zugspite mountain, in southern Bavaria.
Nock plans to submit his feat for entry in the Guinness Book of Records as the "longest and highest wire walk above sea level without a balancing pole."
High Wire Artist Freddy Nock Photos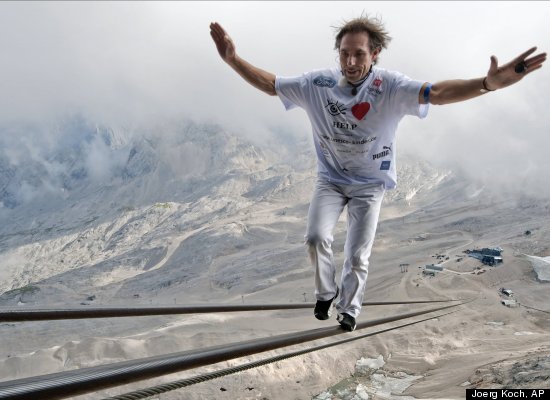 Total comments:
10
|
Post a Comment