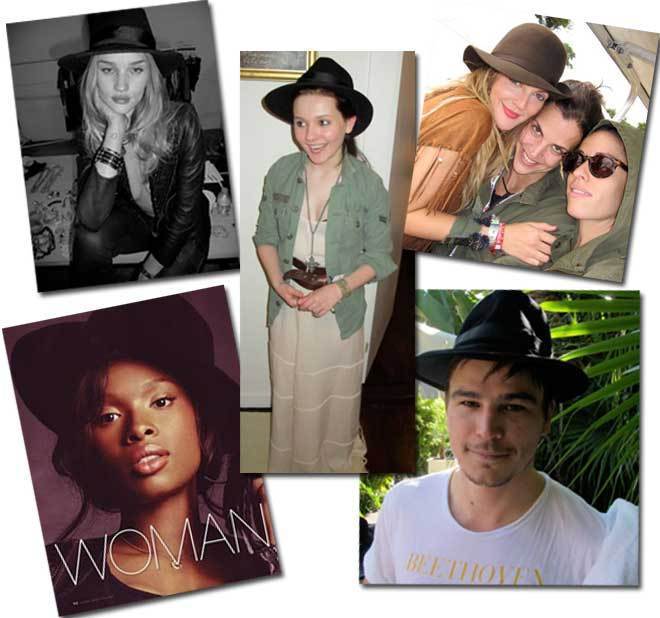 Celebrities in hats designed by Anda & Masha. From top left, clockwise: Rosie Huntington-Whiteley, Abigail Breslin, Drew Barrymore, Josh Hartnett and Jennifer Hudson.
Written by Anda & Masha
As Stylists, after many years of searching, we never could find the right hats we really wanted for our clients and ourselves, so we decided to create a line of perfect hats.
Our collection is inspired by the whimsical, turbulent era of the late '60s and early '70s. We looked toward those bohemian rock 'n roll icons, especially Anita Pallenberg and The Rolling Stones. We imagined the places they have been, the effect they had on people and the essence of their artistic and carefree lifestyle.
Hats have always held both a historic and iconic place in history. They are the finishing touch to a look, some personal comfort to bring with you everywhere -- as well as for protection, for religious purposes and social status.
Initially headwear offered protection from the elements and from injury, but later head coverings became symbols of status and authority. Soon after hats progressed to become not only a uniform, but also an art form. Although women from early on were expected to cover their heads by veils, hoods and kerchiefs, it was not until the end of the 16th century that women's structured hats began to be seen.
Today in fashion hats are a very noticeable accessory because, not only are we drawn to one's face first, but the hat completes a look and gives a personal final touch. The old saying goes, "if you want to get ahead and get noticed, then get a hat."
(Peruse the gallery below for a peek at Anda and Masha's latest collection and some inspirational shots):