Anne Hathaway has been making the red carpet rounds, celebrating the premiere of her new movie "One Day" as well as the not-so-critically acclaimed appearance of her on-screen British accent.
But despite the bad press, Anne told the Sun she would bring the accent back for a chance to play the world's favorite British gal: Kate Middleton.
When asked on the red carpet if she would consider playing the Duchess of Cambridge on screen, Anne told the Sun, "I haven't really thought about it before but yes, why not. She's great. It's such a fairytale."
It's not a huge shock, considering how Anne's been gabbing about Kate all over town. The actress told Interview in her recent cover story (remember, the one where she looks like a super-glam vampire?) that she is "utterly charmed" by Kate and William's fairytale romance.
Also envy-inducing, Anne added, is Kate's hair: "Jesus, that is bouncy. All the things that must be done to allow the crown to stay on . . . I can't even imagine."
So how would Anne and her commoner hair hold up on-screen playing the famous Miss Middleton?
Let's break it down:
Hair: Anne may envy Kate's famed tresses, but girl's got a good head of hair herself (remember her "Love & Other Drugs" mane?). Moreover, Anne herself has sported long, wavy locks like Kate's on many an occasion. We declare it a perfect hair match.

Face: Anne is fairer than Kate and her features are all different -- bigger eyes, bigger mouth, pretty much bigger everything. Not a perfect face fit.

Body: Kate is famously svelte, while Anne has a much more hourglass shape. Their figures, unfortunately, are not a fit.

Personality: While we have faith Anne could turn down her loud-volumed personality if a role required it, we just have a hard time picturing the bubbly, chatty actress in the role of the demure, crowd-pleasing princess. Kate has gotten great at standing beside Prince William and waving... somehow, we can't imagine Anne doing the same.
What do you think -- would Anne Hathaway be the best pick to play the Duchess of Cambridge on the big screen? Is there another Hollywood starlet who'd be the perfect fit?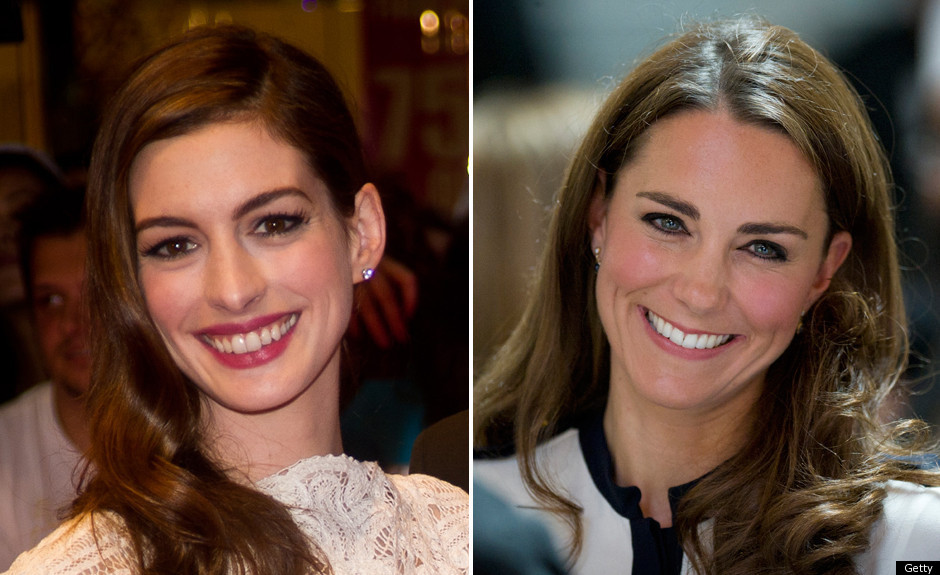 CORRECTION: Previously, we incorrectly wrote that Hathaway debuted her British accent in the film "One Day." In fact Hathaway previously acted with a British accent in the movie "Becoming Jane" in 2007. We regret the error.