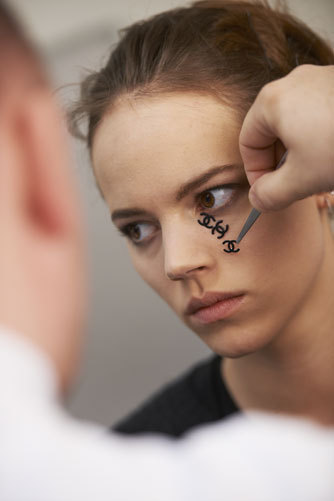 Chanel teardrops. Photo: Chanel
French fashion house, Chanel, recently unveiled behind-the-scenes photos from its upcoming campaign, "Chanel Cocomation," and Karl Lagerfeld has captured my attention.
In one of the more intimate shots, Danish model Freja Beha Erichsen appears motionless as Peter Philips, Chanel's creative director of makeup, uses a tweezer to meticulously place small interlocking "Cs" onto her face. Their fluid juxtaposition gives the feeling of tears, but I can't stop from comparing the luxe face art to teardrop tattoos often donned by gang members. Has The Kaiser gone hardcore?
Would you wear designer teardrops? Or is too extreme?
FOLLOW HUFFPOST