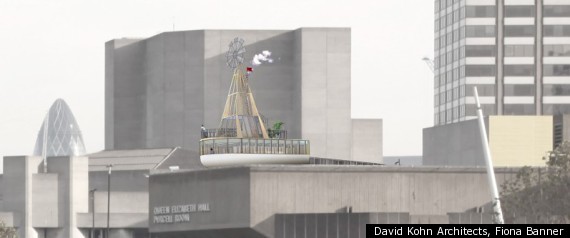 An unusual, single-room boat-shaped retreat dubbed A Room For London will soon begin taking reservations for the 2012 Olympics. The temporary structure — to be anchored above Queen Elizabeth Concert Hall on the South Bank of the Thames — will likely be a much-desired lodging spot for Olympics attendees.
The architects behind the quirky space aimed to create a room that is "playful, beguiling and thought-provoking" on one of the most visible sites of the British capital. From its upper and lower decks, the timber structure will offer panoramic views of London stretching from Big Ben to St. Paul's Cathedral.
A Room for London will be "a space that can be rented out by the general public so that they can experience great contemporary architecture at first hand," spokeswoman Theresa Simon told HuffPost Travel.
David Kohn Architects and artist Fiona Banner collaborated to make the hotel appear to have come to rest grounded above the waters of the Thames below. The idea for the Room evolved from narratives of travel and displacement in literature, especially Joseph Conrad's "Heart of Darkness," the Daily Mail reports.
In addition to bookings open to the general public, the Room will also host thinkers-in-residence, including artists, writers, and cultural commentators, who will muse on London through writing, image-making, online postings and live webcasts.
In celebration of the London 2012 Festival -- a 12-week, UK-wide cultural celebration taking place next summer -- cultural organizations Living Architecture and Artangel hosted a contest from which the boat-shaped design was chosen.
A Room for London will begin taking one-night-only reservations on September 8th on the Living Architecture website. It will be open for business from Jan. 1 through Dec. 31, 2012.