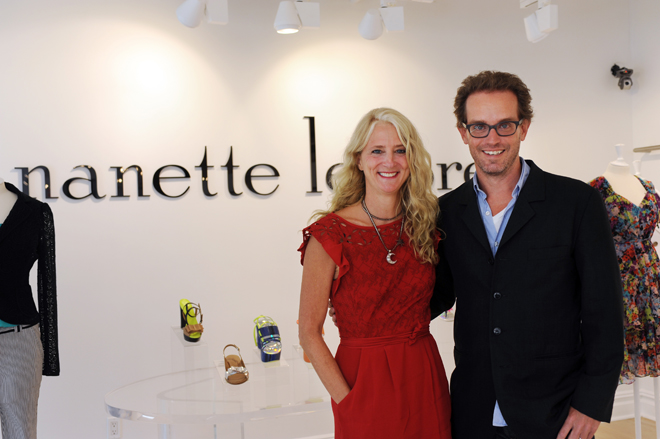 Damon Scheleur
When fashion designer Nanette Lepore saw Sam Bisbee's band play a release show for his album "You + Me = Us" this past May, she knew his music would be well-matched to her creations. "Strings in rock music always get me -- it's so cool and so unusual," she says. "I love when people incorporate classical instruments into something hip and modern."
So she asked Bisbee, a musical multi-hyphenate who's worked as a singer, songwriter, composer, screenwriter and producer, to collaborate on her spring 2012 show. The pair first met through their middle-school-aged daughters who are pals, and Lepore was taken with Bisbee's sense of humor while both were vacationing at a family friend's home in Jamaica.
This isn't the first time the designer has presented a collection with live music (a fitting pursuit, given NYFW's Lincoln Center backdrop); her spring 2011 show featured a performance by erstwhile Fugees producer John Forte. "You have to be really careful with live music, because it has to fill the space," she says. "You have to know that this person can take over the room." Bisbee and his string section will take center stage on the runway, and will likely be outfitted in pieces from the collection.
Bisbee is currently composing a seamless medley to fit the 12-minute run of the show. Though the collection is not yet complete, Lepore offered fabric swatches for inspiration. "That color scheme is stuck in my head," he says. "It informs the music."
Lepore says the collection's dominant hues will include pale violet, light blue, bright melon, Oahu blue (a vibrant shade of navy), and hints of lime and neon. She also says to expect "electrifying colors, beautiful silhouettes and lots of texture" (think: lace, mesh, embroidery and heavy beading).
"I always like to pull in what's happening in the world," Lepore says of this season's influences. "There's this backlash of conservatism, which is affecting clothing in that things are getting a more classic feel." She continues, "Women are more buttoned-up right now, and there's not such an obvious sexiness to clothing." She names "The Last Picture Show," Peter Bogdanovich's 1971 film, as a reference. "It's about a town that was falling apart, and a loss of innocence," she observes. "And I feel like that's what our country is going through right now."
Lepore says the precarious nature of live performance adds to the excitement of preparing the collection. "With fashion shows you're always just winging it," she notes. "There's no script, there's never a run-through. It's like an improvisational art piece, where you just hope that everything flows."
SUBSCRIBE TO & FOLLOW LIFESTYLE
We're basically your best friend… with better taste. Learn more