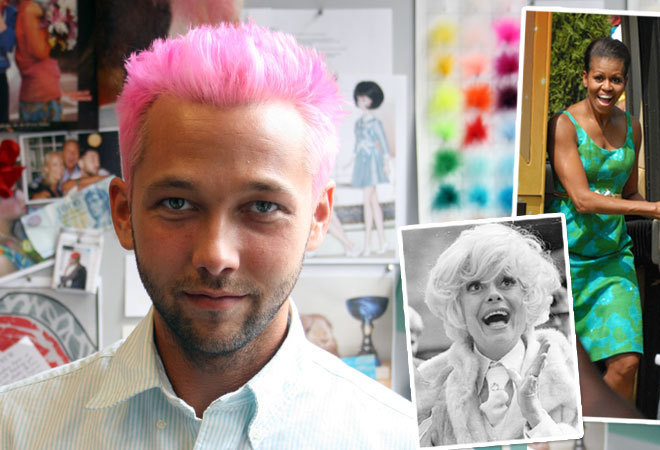 AOL/Getty Images.
28-year-old, fashion designer Chris Benz has only had his own label for just over four years, but despite his pink hair and youthful demeanor, Benz has managed to dress some pretty impressive ladies - Michelle Obama, Susan Sarandon, Debbie Harry and Eva Amurri to name a few. But, there is one star who has proven to be quite elusive. "I can't stop talking about Carol Channing," he says, his arms motioning wildly. "I just love her, and it drives everyone crazy. She looks fabulous and so fun. She can wear color and lives in Palm Springs," he adds practically squealing. "We send her an invitation to the show every season, but she's never been!" What it would mean for her to actually attend a show? Benz promptly answers, "A dream."
Still, Benz admits, like many other designers, that Mrs. Obama's appearance probably caused the most fanfare. "It was a total surprise," he said of the June "Extreme Makeover: Home Edition" taping in which she wore the green and blue Nelda frock from his Resort 2012 collection. "I was leaving the gym, and there were like a million emails on my Blackberry. I was like, 'What's going on?' Of course, I thought something terrible happened, but it was her - the holy grail of fashion wearing my dress. It was such a special moment for me and everyone that works here." Benz will get to play that momentum forward again when the episode finally airs in October, but for now his focus is on his Spring 2012 show.
"We love that free-spirited, world traveler look," he says pointing to a collage of images that include vintage Anjelica Houston and Beatles photographs. "It's sort of a continuation of Resort, but a little more ethnic." Editors, retailers and eventually customers can come to expect Benz's classic shapes in mixed florals and ikats come September. Benz elaborates, "we love the thrill of the exotic in that kind of romantic way."
While those details are squared away, Benz is still unsure of the location of his show a mere weeks before. "We're still figuring out space, but we have to find something that's bigger than the Rubenstein. I keep saying Madison Square Garden, but haven't gotten any takers."
Keep reading for more on Benz's spring collection, love of color and how he decorated his office:
"Growing up in Seattle, it was so gray all of the time, and when the sun did come out it was like the bluest water, the bluest sky and the greenest trees. Everybody had this weird cerebral connection to water and the sun and everything. I have a very distinct palette that's usually very primary-based, like mustard, turquoise and orange-red. It's the same with my hair. I don't have any piercings or tattoos, so I charge it with color." All Photos By Bobby Doherty and Damon Dahlen

"I don't really shop. I always wear a Brooks Brothers kids' blazer, a t-shirt and Levi's. That's it. I have lots of vintage clothes and stuff, but I'm really not a hardcore shopper."

"People ask me all the time if I'm going to do a men's line. I think it'd be an easy thing to do based on our aesthetic. I sort of know exactly what it would be -- I would just make everything that I wear. I love the idea of classic men's things with a twist -- with a color or a weird print."

An inspiration board from his recent Resort collection.

With actress and muse Eva Amurri.

"I'm really into stickers right now. I love sailing and donuts. Classic glaze is the best."

"I think that our girl sort of started out very casual tomboy, and I think she's really sort of matured into more lady tomboy. One of the great things about having a connection with your customers is being able to incorporate their viewpoints into your designs."

"These are really cool; they're antique fabric flowers. There used to be a company in the Flatiron District that we worked with that, unfortunately, went out of business. They were the premiere fabric flower manufacturer in the U.S. They were selling everything that was in their office and they saved this little portion of all their tools for us. I think Martha Stewart has all the rest of them."

Benz in New York Magazine.

"This Stephen Sprouse is a friend of mine's. He didn't know where to put it, so I took it."

"This is a collaboration with The Woods that we did for Resort, and we're doing it again for Spring. It's a very high-low aesthetic, rubies with diamond and carnelian and a lot of pyrite. We had a lot of retail accounts in common, so it made sense for us to do a collaboration. It was really fun to complement each other's aesthetics."

"We moved to this studio in October 2009. Originally we had like one black wooden table in here and it was super-sad. And everybody was like, 'Can we have meetings at your apartment; it's more fun and comfortable' -- and I was like, 'Okay, I get where this is going.' It took a good month to kind of rig everything up and get all of these complements in here."

"The great thing in terms of celebrity dressing is that we dress all ages, which I'm very proud of. Susan Sarandon and Eva, her daughter, both wear my clothes. Susan's in her 60s and Eva's in her 20s, but you know it looks just as good on either one. I like that we cross over all generations. Dressing doesn't seem so narrowly focused in terms of the aesthetic of a) who wears our clothes and b) their age."

"This is like a strange camo moment. You don't expect it, but it pops for you."

"We've been working with Alejandro [Ingelmo] for the past four seasons. It's been great because we're at exactly the same point in our businesses - we've been doing it for exactly the same amount of time. Our aesthetics are sort of different, so when we combine it it always ends up being such a cool thing. Like these tennis shoes - I love the collector pieces that we do."

"We switch this wall up every season to find some new inspiration. The Chris Benz doesn't go away, though."