Hippopotamus In Puerto Rico Zoo Gets Dental Visit By North Carolina Veterinarian
When the patient with a toothache weighs 3,000 pounds, he doesn't go to the dentist -- the dentist comes comes to him.
A North Carolina veterinarian made a long-distance house call to a hippopotamus in a Puerto Rico zoo who was getting a little long in the tooth, The News & Observer reported.
It was another day at the office for Dr. Mike Loomis, chief vet of the North Carolina Zoo, who's been filing the lower teeth of Tony the hippo at the Parque de las Ciencias Luis A. Ferre for 20 years, the newspaper said.
After sedating the huge mammal, Loomis takes a saw to trim the chompers before they can cause oral problems to Tony. Years ago, before he became Loomis's patient, Tony's bottom teeth cut through his upper lip.
CHECK OUT PHOTOS FROM TONY THE HIPPO'S DENTAL APPOINTMENT:

Tomy the Hippo Dental Visit Photos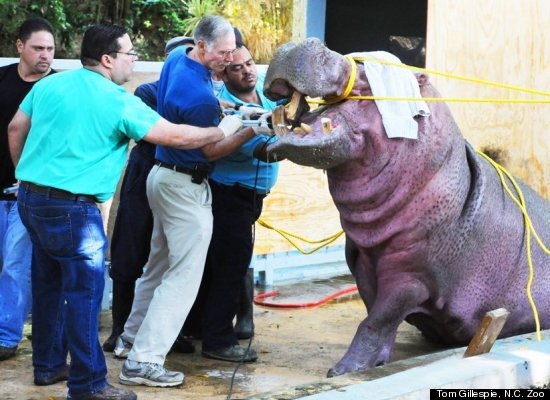 Total comments:
24
|
Post a Comment