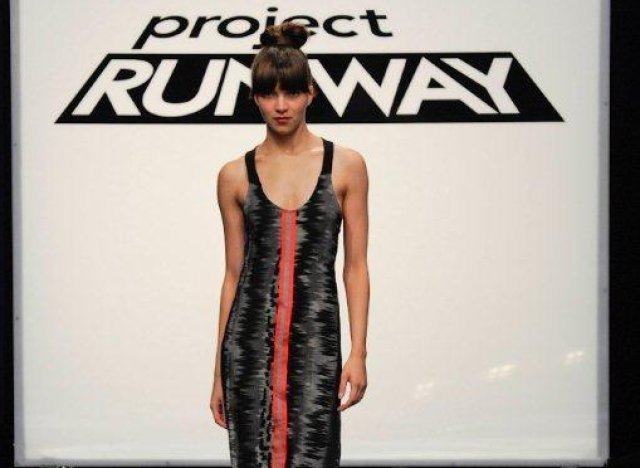 It's survival of the fittest on "Project Runway" as the season 9 contestants are summoned to an indoor track.
StyleList's guessing this track and field scenario has something to do with Heidi Klum's New Balance workout togs. And we're feeling a little smug as the designers slip on red "HKNB" T-shirts before heading out of the Atlas apartments for a little product promotion.
The Challenge: Working in teams, the designers must create three distinct, but coordinating looks for Klum's denim and suede sneakers, a new addition to her New Balance line.
The Twist: The contestants have to sprint a 200 meter lap at New York City's Armory with the four fastest runners - Joshua McKinley, Viktor Luna, Bryce Black and Anthony Ryan Auld-- winning the right to choose and captain their teams.
The Prize: Besides bragging rights, the winner's look will be manufactured and sold on Amazon.com.
The False Starts: Cecilia Motwani-- regretting that she didn't go home after alienating Nina Garcia with her "boring, grey, baggy things" in episode 4-- opts out and leaves "Project Runway." Meanwhile, Olivier Green collapses on the track and has to be attended by a paramedic. And he "feels stupid" because of it.
The Come-From-Behind-Winner: Is previously ousted contestant, Josh Christensen, who is chosen by "Team Viktor" to fill the unexpected void left by Motwani.

The Making-it-Workroom Drama: It's a race with hurdles --and diva rats-- as team leaders bully their weaker charges. Especially brutal: The intern treatment 40-year-old sewing queen Becky Ross gets from "Team Josh." When she complains about her seamstress duties, a snide McKinley declares her dowdy demographic "is 40-to-death." Instead of going out for coffees, she storms in the Parson's ladies' room in tears. Sour "Grandpa" Bert Keeter continues to alienate everyone with his muttering-under-his-breath ways. His team captain, the usually impressive Auld, spends so much time bickering with Keeter; he neglects his own sad garment. Meanwhile, Klum makes a surprise visit to the workroom. She is so disturbed by what she sees, she orders the contestants to stitch until 4 a.m.
The Guest Judge: Model and designer Erin Wasson joins the panel.
The Runway Show: Is a bit of a hot, sweaty mess, unless shoddy cocktail dresses paired with running shoes are your thing. Indeed, the judges are so displeased Klum-of-Doom convenes an inquiry. Auld tries to throw Keeter under the 'auf bus, but it turns out the judges love his cute sheath with its asymmetrical collar. It is Auld's strange romper that gets a shredding. Their bull's eye is also on sweet Danielle Everine for once again working in green chiffon. Judge Michael Kors says her top looks "like a soufflé that flopped." And Nina Garcia hates green.
Who's In: McKinley and his "Team Josh" get the chance to vend their vision for Klum on Amazon.com. The highlight of their collection is a racerback maxi-dress designed by Anya Ayoung-Chee. But wait: "Team Viktor's" Luna is also declared a winner for his chic motorcycle jacket and comfy cool dress. He's so excited he vows to "buy the jacket for myself" on Amazon.com. We may beat him to it.
Who's Out: "Chiffon addicted" Everine, 26, is ordered to clean up her workspace for the error of her green ways. "Even if Becky (Ross) the queen of sewing helped her out, it would still be a rag," says Kors. Yet the decision to 'auf Everine is not unanimous. Klum takes the dismissive moment to dress Auld down. "If this was me you'd be out today," she says.
FOLLOW HUFFPOST