Keeping up with fashion trends can be expensive. Especially if you've been obsessing over designer items that cost more than a car. Sigh.
But never fear, "Send The Trend" is here.
"Send The Trend" is an online boutique dedicated to offering any and all of the accessory trends that you covet for only $29.95 per item. It takes just two seconds to sign-up and you unlock a treasure trove of drool-worthy bits and baubles.
Plus, the site just launched an exciting new personalized section called "MY STYLE" and a chance to win $500! Here's how it works:
This exclusive section allows you to create a page that lives on Send the Trends site – you can upload your picture, choose words that capture your style tendencies, and select pieces from the site to showcase on your page.
With each page functioning as a unique Send the Trend store that viewers can shop from, you are then encouraged to share and socialize your page via Facebook, Twitter, and email, ultimately earning you credits and cash!
At the end of each month, whichever page is nominated the most for their personal style will win $500 cash. Furthermore, MY STYLE users will receive a $10 credit for anyone who buys a piece from their MY STYLE page, and a $3 credit for anyone who registers for Send the Trend from their MY STYLE.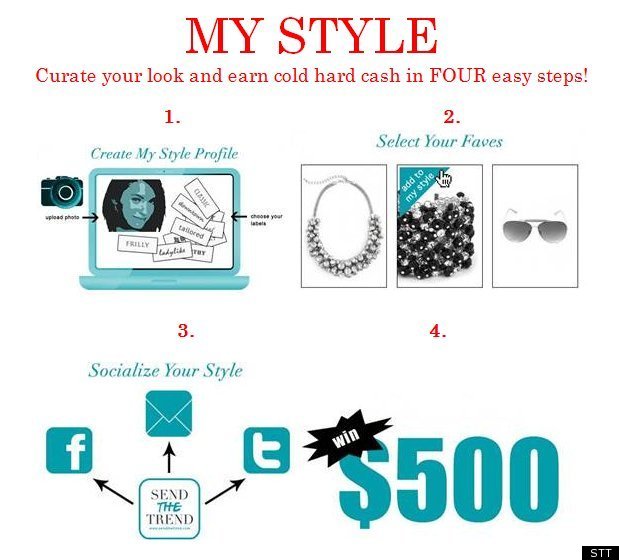 Here are a few of the fabulous and affordable items you'll find on the site: