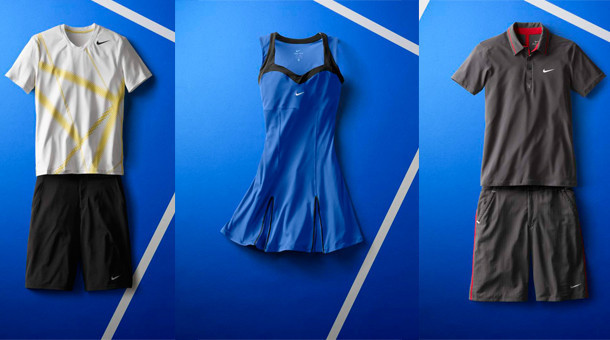 Courtesy of Nike
Yesterday was the first day of the U.S. Open and for tennis fans everywhere, this tournament is one of the premier sporting events of the year. Though we will be anxious to see what those off the court will be wearing while they watch, particularly tennis fanatic Anna Wintour, this year's all about how the players are showing off their own sartorial savvy.
Nike has designed both day and night looks for several of the tournament's biggest names, including Maria Sharipova, Li Na, Serena Williams, Rafael Nadal and Roger Federer. In an effort to raise the style stakes of each match, the athletic attire has been created with a distinct color palette in mind — high resolution shades and bold accents compliment each player's individual personality. While Nadal's Nike look is inspired by the elements and an aura of keeping it cool, Federer will wear red stripes reminiscent of a classic race car. Serena's ensemble includes bold, vibrant hues that pair perfectly with her famously spontaneous on-the-court wear.
So before some of the best matches actually begin later on this week, above is an exclusive sneak peek at Nike's newest U.S. Open outfits, specially designed for Nadal, Williams and Federer.
FOLLOW HUFFPOST