Why Do People Risk Their Lives For Guinness World Records?
Have you ever wanted something so badly you were willing to do anything for it, even risk your life or a limb?
If so, you just might have what it takes to become a Guinness World Records holder.
As a compiler of amazing feats and achievements, Guinness is in a class of its own. And some people believe that making it in the book is an accomplishment worth any risk.
With the 2012 version of the book on the brink of being released, daredevils like Michael Hughes are getting ready to up the stakes.
Hughes set a world record in September 2002 when he strapped himself in a limo and launched the vehicle 103 feet. He is now planning to attempt a new world record in October for the longest, highest jump off a ramp in a rocket-powered car.
He thinks he can reach a half mile and said his decision to defy death in order to get into Guinness is one based on pragmatism.
"I am hoping to make a few bucks off this rocket jump," he told HuffPost Weird News. "I see it as a springboard for the rest of my life. Maybe a clothing line or sunglasses."
It's that chance for immortality that may explain why Susanne Eman, 32, a single mom in Casa Grande, Ariz., has made it her goal to break the record for "World's Heaviest Woman."
Currently, Guinness recognizes Pauline Potter, 48, of Sacramento, Calif., as the world's heaviest woman. Confirmed by the organization at weighing 643 pounds, Potter suspects she now weighs closer to 700 pounds.
Although Guinness officials say Eman has never officially submitted an application to be considered for the record, she claims to weigh around 730 pounds and told the British news agency Barcroft Media that, if all goes well, she will hit her current goal of 1,600 pounds when she is 41 or 42.
To many observers, winning a mention in a book might pale in comparison to the health risks and mobility issues associated with being so heavy. And even if Eman tips the scale at a record-setting weight, she won't necessarily be satisfied.
"I'd love to find out if it's humanly possible to reach a ton," she said.
Eman's plan to eat her way into history might be dangerous -- but she won't be the first person who risked death in an attempt to make it into the record books.
From race car driver Marshall Teague, who perished attempting to set a closed course speed record in 1959, to free diver Audrey Mestre, who never regained consciousness after dropping to a depth of 561 feet below the sea in 2002, daredevils have long gambled their lives for a shot at a world record.
But what motivates someone to put their life on the line for a mention in a book and a certificate?
Los Angeles-based psychotherapist Nancy Irwin said she believes people who want to set records often do so to fill a void in other aspects of their lives.
"In a case like this, there is a sense of narcissism that suggests she's desperate for attention and wants to stand out," Irwin told HuffPost Weird News, referring to Eman. "There could be a sense of self-hatred as well. Also, some people just cannot stand anonymity -- especially if they failed at something before."
Although Irwin said her explanation might cover all people who single-mindedly put their lives at risk for a goal, she concedes that some kinds of risky record-breaking could be less of a cry for help than others.
"I think a man-against-nature goal is healthier than trying to gain as much weight as you can," she said.
But even if Eman's goal -- which requires her to eat 22,000 calories a day --may be hastening her death, Irwin said compassion is key to understanding her effort.
"Many times, people have something to prove," she said. "You have to understand that there is a positive intent behind every activity, even if it has a negative outcome."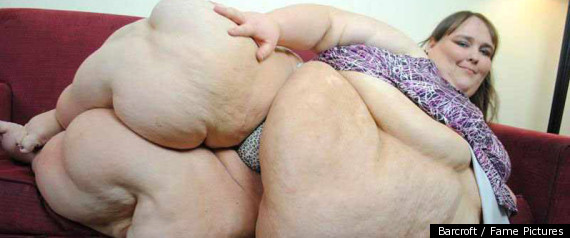 Irwin sees the desire to risk death as a plea for help or attention. But others, like Hughes, who started out racing motorcycles, sees his record attempt as a numbers game.
"I could win 20 stock car races or do one big jump," he said. "One of the things I thought when I came up with this stunt is, 'What can I do to stand out from everyone else?'"
On one hand, Hughes said he thinks he can do this one big jump and call it quits. But on the other hand, he admits he's not completely sure he'll stop after the jump.
"I do have enough parts lying around to build a rocket motorcycle," he said. "I thought about maybe attempting to break the land speed record."
In some cases, a record attempt that looks risky to the viewer might not seem that way to the person trying to break the record.
That's how it was for skiing champ Grete Eliassen, who set a world record in April 2010 for "highest hip air by a woman on skis" by soaring a whopping 31 feet in the air.
It's not something she can do every day -- or even every week -- but she views her record as the sum of years of hard work doing something she enjoys.
"For me, the record was about finding something I am good at and showing women are as good as men," she said. "I did a lot of prep work for it; starting off with a small jump and then a larger one until finally I was ready."
"Setting the record was the best high," she added. "It was great having the guys tell me I'm awesome. I'm not sure what the next limit to conquer is, but I'm training for the 2014 Winter Olympics and I'm sure I'll find something."
Having confidence in oneself is the key to setting a world record, according to Ashrita Furman. And he should know -- he holds the record for most Guinness World Records.
He currently has 132 records under his belt, but over the years, he's either set or broken 350 world records, including "longest continuous distance somersaulting" (12 miles, 390 yards); "most cucumbers snapped in one minute" (118); and "most jello eaten in one minute using chopsticks (1 pound, 5 ounces).
"Honestly, most of the records I've set haven't been life-threatening like [Eman]," he said. "But some of them, like skipping with a tiger or juggling with a shark were pretty stupid.
"But I think if you're confident of your abilities, you feel in control of your own fate and it doesn't seem like a high risk."
Although Furman said he doesn't understand why Eman wants to be the fattest woman in the world, he said he understands the desire to be tops in something.
"I love the challenge of being the best in the world, but I also want to inspire people and transcend limitations," he said. "But I don't get her -- it's not healthy. I think Guinness would highly disapprove of a record like that."
A Guinness representative said the organization's policy isn't to celebrate "achievements" like the one Eman is attempting, but to simply chronicle the extremes that exist in the world.
Jon Pritikin, who once set a record for the "tightest roll of a frying pan" -- bending the metal pan until it was rolled up like a burrito -- said that anyone attempting to set a new record should question their motivation.
"I basically set the record because I do school assemblies about overcoming bullying and use feats of strength as a selling point," he said. "The Guinness title actually helps you get into places. It might seem silly, but it's nice being in the book.
"I was happy the day I set my first record, but then someone broke it a month later," he added. "It's a real kick to your self esteem, but then you remember, 'What's my motive?'
"Really, once you've broken or set a record, it's always there. However, when you ask why does someone risk their life for a record, it comes down to this: What does anyone want? To be noticed or accepted, and people will risk their life for acceptance."
CHECK OUT THESE WEIRD AND WILD WORLD RECORDS:

Loading Slideshow
World's Largest Biceps

The largest male bicep belongs to Mostafa Ismail of Egypt. His left arm measures 25.5 inches when flexed and 24.5 inches when non-flexed.

Jyoti Amge and Brahim Takioullah

Jyoti Amge stands just under 25-inches and holds the title of world's shortest woman. Brahim Takioullah is 8-foot-1 and holds the record for the world's biggest feet

World's Longest Snake

Medusa, a 25-foot, two-inch Reticulated Python owned by Full Moon Productions in Kansas City, Missouri is the Longest Snake Ever in Captivity.

Largest Rabbit

Ralph weighs a hopping 55 pounds, and eats about $90 worth of food a week!

World's Largest Mohawk

Kazuhiro Watanabe, a Tokyo-based fashion designer, has been recognized by Guinness World Records for his three-foot, 8.6-inch mohawk.

Largest Barbie Collection

Bettina Dorfmann of Germany has 15,000 different Barbie dolls, as of October 2011. She has been collecting them since 1993.

Largest Drum Kit

The largest drum set is comprised of 340 pieces, and is owned by Dr. Mark Temperato of Lakeville, New York.

Largest Hot Dog Commercially Available

The largest hot dog commercially available weighs seven pounds and and is available from Gorilla Tango Novelty Meats for $40.

Smallest Helicoptor

In terms of rotor length, the smallest helicopter is the GEN H-4 made by Gen Corporation (Japan) with a rotor length of only 13 feet and a weight of only 154.32 pounds. It consists of one seat, one landing gear and one power unit. Unlike more traditional helicopters, it has two sets of coaxial contra-rotating rotors which eliminate the need for a tail rotor for balancing.

Tallest Dog

The tallest dog living is "Zeus," a Great Dane measuring 44 inches tall, owned by Denise Doorlag of Otsego, Michigan.

Tallest Donkey

The tallest donkey living is Oklahoma Sam, a 4-year-old American Mammoth Jackstock, who measured 15.3 hands -- or 5-feet, 1 inch tall on 10 December 2011. He is owned by Linda Davis of Watsonville, California.

World's Tallest Cat

The tallest domestic cat ever was Savannah Islands Trouble, aka "Trouble", who was 19 inches tall before his death on August 15, 2012.

Heaviest Rideable Bicycle

The heaviest rideable bicycle weighs 1650 pounds. It was built by Wouter van den Bosch (Netherlands) and ridden in Arnhem, Netherlands, in May 2010.

World's Biggest Cheeseburger

In this Sunday, Sept. 2, 2012 photo provided by by Black Bear Casino Resort, people examine a bacon cheeseburger measuring 10 feet in diameter and weighing more than a ton at Black Bear Casino Resort near Carlton, Minn. The behemoth burger, served up Sunday at the Black Bear Casino Resort tipped the scales at 2,014 pounds. (AP Photo/

Mass-Massage World Record

Thai masseuses perform mass massaging at a sport arena on the outskirts of Bangkok, Thailand Thursday, Aug. 30, 2012. Thailand has long been known as the massage capital of the world. Now, it has a Guinness World Record to prove it when some 641 massage therapists mass-massaged 641 people simultaneously for 12 minutes to win the honor Thursday at an indoor arena in Bangkok. The event was organized by the Health Ministry to promote the Southeast Asian nation's massage and spa industry. (AP Photo/Apichart Weerawong)

Besse Cooper Turns 116

Besse Cooper, the world's oldest living person, marked another milestone as she celebrated her 116th birthday on Aug. 26. Cooper, who is originally from Monroe, Georgia, USA, was first certified as the world's oldest person by Guinness World Records in January 2011.

Farthest Distance Skateboarded By A Goat

The farthest distance skateboarding by a goat was 36 m (118 ft) and was achieved by Happie (USA) of Fort Myers, Florida , USA, on 4 March 2012. The distance was completed in a time of 25 seconds.

World's Largest Shaving Cream Pie Fight

On July 31, 2012, 714 people gathered in Dallas, Texas to participate in the world's largest shaving cream pie fight.

Heaviest Living Athlete

The heaviest living athlete in the world is Sumo wrestler Emmanuel 'Manny' Yarborough, of Rahway, New Jersey, USA. He stands 2m 3cm 6ft 8in tall and weighs a colossal 319.3kg 704lb. He was introduced to Sumo by his judo coach and seven years later, he is ranked number one in the Open Sumo Wrestling Category for Amateurs.

Longest Professional Wrestling Match

The longest professional wrestling match lasted 12 hours and was promoted by Shockwave Impact Wrestling (USA) as the Ultimate Iron Man Match at the Shelby County Fairgrounds in Sidney, Ohio, USA, on November 6, 2010. The match was contested by American Kickboxer II aka Brandon Overholser, Dark Angel aka Mike White, DJ Tom Sharp aka Tom Crone, Logan Cross aka Logan Jones, Sid Fabulous aka Mark Easterday, and "Lightning" Tim Lutz.

Longest Beach Volleyball Marathon

The longest beach volleyball marathon lasted 25 hr 39 min achieved by Mateusz Baca, Sebastian Lüdke, Tomasz Olszak, and Wojciech Kurczyński (all Germany) in Görlitz, Germany, on 3-4 July 2010. The attempt was made at the Rosenhof sports and leisure centre by the four members of sports club VfB Görlitz.

Longest Time Controlling A Football While Lying Down

The record for the longest time controlling a football whilst lying down is 10 min and 4 sec and was achieved by Tomas Lundman (Sweden) at the Nordstan Shopping Mall, in Gothenburg, Sweden on November 24, 2007.

Most Items Kicked Off People's Heads In One Minute

The most items kicked off people's heads in one minute is 43 and was achieved by Zara Phythian (UK) on the set of Guinness World Records Smashed, at Pinewood Studios, UK, on March 25, 2009.

Farthest Throw of a Person

Jonathan Macfarlane (New Zealand) threw Andrew Rainford a distance of 4.87 meters (15 ft 11 in) on the set of NZ Smashes Guinness World Records at the Sylvia Park shopping mall in Auckland, New Zealand, on July 25, 2009.

Most Passes of a Giant Volleyball

The most consecutive passes of a giant volleyball is 582 and was set by Vanessa Sheridan and Paddy Bunce (both UK) during Capital Breakfast with Johnny Vaughan, Capital Radio, London, UK on November 9, 2006 as part of Guinness World Records Day.

Fastest Mile on Spring Loaded Stilts

The fastest mile covered on spring loaded stilts is 7 min 13 sec set by Ashrita Furman (USA) at the TSV 1865 Dachau Sports Club in Dachau, Germany, on March 30, 2008.

World's Oldest Competitive Bodybuilder

Edith Wilma Connor, 77, from Denver, Colorado is the Oldest Female Competitive Bodybuilder, and started pursuing fitness in her late sixties when she realized she wanted more energy. She won her first competition at the age of 65.

Oldest Sisters Celebrate 213 Combined Years

Marjorie Ruddle, 105, and her sister, Dorothy Richards, 108, are officially declared the world's oldest sibling pair.

World's Oldest Yoga Teacher

Yoga teacher Tao Porchon-Lynch, 93, has been teaching yoga for more than 45 years and currently has 400 students in Winchester, N.Y.

Bruschi: Dog With World's Largest Eyes

Bruschi, a four-year-old black and white Boston Terrier, who lives with his owner, Victoria Reed, in Grapevine, Texas, holds the Guinness World Record for "dog with the largest eyes" -- a whopping 1.1 inch in diameter.

Chandra Bahadur Dangi

It's official! Guinness World Records officials have measured Chandra Bahadur Dangi to confirm his height of 21.5 inches (54.6 centimeters). That makes him not only the world's shortest living man but the world's shortest person ever recorded in Guinness' 57-year history.

World's Oldest Twins

Edith Ritchie and Evelyn "Evie" Middleton (née Rennie), born on November 15, 1909, are the world's Oldest Living Twins. The pair from Aberdeenshire, Scotland, celebrated their 102nd birthday in November 2011.

World's Shortest Woman

Guinness World Records Adjudicator Rob Molloy (R) and doctor Manoj Pahukar (2nd L) measure Jyoti Amge (C), 18, during a news conference in Nagpur on Dec. 16, 2011. Amge was officially announced by the Guinness World Records on December 16 the world's "shortest woman living (mobile)" measured as 62.8cm (24.7 inches) and will take the title from US woman Bridgette Jordan, previously held the record at 69.5 cm (27.4 in).

Longest Curtsey

Andy Campbell and Buck Wolf of The Huffington Post's Weird News team took part in the Guinness World Record for Longest Curtsey Relay in 5 Minutes in January, 2012.

World's Smallest Working Dog

Lucy, a mini Yorkshire terrier from Absecon, New Jersey, is now in the Guinness Book of World Records. Weighing just 2 1/2 pounds, Lucy was named the world's smallest working dog last week, bumping out a 6.6-pound police dog in Japan.

102 year-old Twins

Sisters Ena Pugh (pictured right) and Lily Millward who have just celebrated their 102 birthday. They are officially the oldest twins in the world. The pair both live near Brecon, South Wales

Most Diamonds Set In One Ring

The Lobortas Classic Jewelry House in Ukraine created this record-setting ring -- the "Tsarevna Swan" -- containing an incredible 2,525 cut diamonds.

Coins Record

A volunteer lines up 25-Centavo coins on the pavement in an attempt to break the Guinness World Record currently being held by the United States at the Rizal Park in Manila, Philippines Wednesday Nov. 30, 2011. More than three million pieces are lined up for hours Wednesday to a stretch of 70 kilometers to break the 64.8 kilometers set by the United States. Proceeds of the campaign will help build classrooms in the country, according to the Central Bank, one of the organizers.

World's Smallest Living Cat

Fizz Girl, a Munchkin Cat from San Diego, California, has grabbed the record title for 'Shortest Living Cat'. Measuring in at just 6 inches tall from floor to shoulder, Fizz Girl weighs 4 pounds, 2.3 ounces. Munchkin cats are a special breed that have little legs caused by a naturally occurring genetic mutation.

Guinness World Records

Bridgette Jordan, 22, a college student in Centralia, Illinois, has just been declared the "World's Shortest Woman" by Guinness World Records. She stands 2 feet, 3 inches, 1.5 inches shorter than the previous record holder.

Guinness World Records

Bridgette Jordan, 22, is not only the current "World's Shortest Woman," but she shares the title of "World's Shortest Siblings" with her 20-year-old brother Brad. Bridgette stands 27 inches while Brad is who stands 38 inches high.

Guinness World Records

The Berghoff, a German restaurant in Chicago, wanted a world record in the "wurst" way -- and they succeeded -- with a 47-foot, three-inch bratwurst. The record-breaking brat weighed more than 40 pounds and needed a bun that was 50-feet long.

Chanel Tapper - Longest Tongue

Chanel Tapper has a tongue that measures a whopping 3.8 inches, from tip to top lip. However, British citizen Stephen Taylor's lengthy licker stretches 3.86 inches.

Sarwan Singh - Longest Beard

Sarwan Singh of Canada holds the record for longest beard: 7 feet, 9 inches.

Rolf Buchholz - Most Pierced Man

The world's most pierced man, Rolf Buchholz, of Dortmund, Germany, has 453 studs and rings all over his body, including 94 piercings in and around his lips, 25 in his eyebrows, eight in his nose and 278 in his genital area.

Aevin Dugas - Largest Afro

Aevin Dugas of New Orleans, La., is the proud owner of a record-breaking afro. It has a circumference of 4 feet, 4 inches. She trims her afro two or three times a year, and uses up to five conditioners at once when she washes it.

Pauline Potter

Pauline Potter, a 47-year-old, 643-pound Californian, has earned a spot in the 2012 Guinness World Records 2012 record book as the World's Heaviest Woman. She weighs 643 pounds.

World's Oldest Person

Besse Cooper, recognized as the world's oldest person, will turn 116 on Aug. 26, 2012. Cooper, pictured in her room in a nursing home on Feb. 1, 2011 in Monroe, Ga., was born in 1896.

World's Largest Fishing Lure

Guinness World's Records confirmed on August 10, 2011 a new world record and the debut of the World's Largest Fishing Lure, weighing more than 355 pounds and measuring more than 12 feet. The home of this giant lure is Sandestin Golf and Beach Resort and the SS Spitfire Mercantile, near Destin Florida.

Amazing Guinness World Records

Lu Zhi-hao is believed to be the world's fattest 4-year-old. The obese boy from China's Guangdong province weighs a stunning 136 pounds -- posing a major health risk, according to doctors. A health clinic in Hong Kong has offered free weight-loss treatment for the child.

World's Tallest Teen Girl

Malee Duangdee, 18, stands outside her home with her relatives Mai Khosod, 37, and A Khosod, 24, who are holding her arms up on April 7, 2011, in Trat Province, Thailand. Towering head and shoulders above her own parents this giant teenager -- at 6 feet 10 inches -- is the tallest in the world and could still be growing.