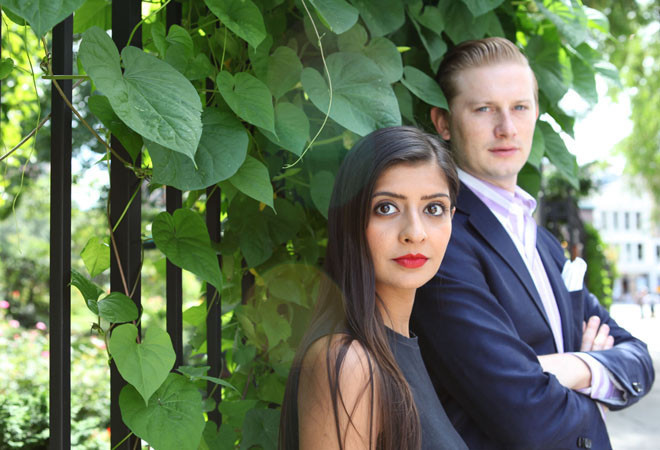 Four years ago, David Moltz, a musician, and Kavi Ahuja, an architect, decided to make aftershaves and tonics to give their friends for Christmas. What started out as a small, at-home project has now turned into a successful fragrance line: D.S. & Durga is sold everywhere from Steven Alan to J. Crew Men's Store to In God We Trust here in New York, as well as Freeman's in San Francisco and Isetan in Japan. But that's not to say they've sold out and gone mainstream. Far from it. Up until a month ago, the entire operation was still run out of their Brooklyn studio space. And everything is still made here in New York, just on a slightly bigger scale. David, the nose and creator of the scents still oversees each batch; Kavi, his wife, designs the packaging and illustrations for the line.
David found his fragrance calling early when he won a bottle of Pierre Cardin cologne in a raffle at summer camp. "The black and red one. It was super 80s and total man musk," he recalls. While it certainly made an impression on David, who had an early interest in "botanical stuff and plants and extracts," D.S & Durga took a decidedly different direction. "Especially in 2008, there weren't small people making perfume in the way people were making ties, clothes, jewelry. It seems like a lot of these handmade cottage industry things were starting up again, and there really wasn't one for perfume," says David.
It's this hands-on approach towards perfume making that really differentiates D.S. & Durga from the rest of the pack. "We're an American perfumery. We sort of demystify the process and what's in it. It's about a very concrete subject," says David. With names like Cowboy Grass, Mississippi Medicine, Burning Barbershop, Boston Ivy and My Indian Childhood, David and Kavi really develop an idea around each fragrance. Their look book, includes images and references (pulling from history, far-flung locations, literature, even song lyrics) that accompany each scent. "We try to be more specific in the stories to conjure up what we're thinking," says Kavi.
As far as the process, the couple chalk it up to trial and error. "You won't know that when you mix it, that it will smell the right way or be what the customer wants," says Kavi. Though Davids adds: "that as you go along, you do start to understand in your head what'll happen if you start using certain ingredients. Just like how musicians hear music in their heads, you do start to understand how things smell and what happens when you add specific things."
Which brings us full circle with David's other passion: Music. The entire time we visited the D.S. & Durga studio, David played records, switching from classical Wagner to a rare album by Bob Dylan and The Band. He likens making perfumes to cover songs, which when you think about it, is pretty profound. "There's a way you smell a rose, but there so many different kinds of rose," says David. "When you a buy a particular brand's version of rose, that's their version of maybe trying to make it smell like the original thing, but maybe they want to try to catch the sea air, or the forest nearby, or the dirt, or the thorns. For example, if I were to cover a Woody Guthrie song, no matter what, it will never sound like Woody Guthrie. It would never be my song. I didn't record it on the same equipment he did. I didn't know it as well as he did." It's the same with fragrance, it's never going to smell exactly the same, they're all just different cover versions.
FOLLOW HUFFPOST