Kent Desormeaux Arrested: Jockey Charged After NY Cop Is Struck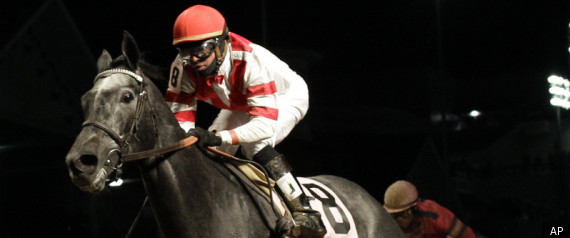 SARATOGA SPRINGS, N.Y. -- Jockey Kent Desormeaux, a three-time Kentucky Derby winner, has been arrested on charges he tried to run over a traffic cop outside Saratoga Race Course.
The 41-year-old Desormeaux, of Weston, Fla., was leaving the historic track in his 2003 Porsche about 6:30 p.m. Wednesday when he struck the officer, Saratoga Springs police said. The officer's condition wasn't released.
Desormeaux was charged with reckless endangerment, a misdemeanor. He posted $500 bail.
A phone number for him couldn't be located Thursday morning. Police didn't know if he had a lawyer.
He was scheduled to ride in two races Thursday, but one horse scratched and racing officials barred him from riding in the other based on the charges.
Desormeaux, a 2004 inductee into the National Racing Hall of Fame, almost won the 1998 Triple Crown, capturing the Derby and Preakness but falling a nose short in the Belmont. He matched the feat in 2008, guiding Big Brown to victories in Kentucky and Maryland but pulling up in the Belmont stretch and easing home in last place.
Copyright 2014 The Local Paper. All rights reserved. This material may not be published, broadcast, rewritten or redistributed.