Tracy Reese Previews Spring 2012 (PHOTOS)
While you start pulling out your Fall wardrobe next week, fashion designers will be pulling out their Spring 2012 collections during New York Fashion Week.
One of our favorite designers, Tracy Reese, is giving us a sneak peek of what we can expect from her next spring.
For this coming Spring, Reese was inspired by "a land of pure delight."
"A feminine yet relaxed mood is achieved through the juxtaposition of romance and sport, comfort and flattery. Subtle hues of khaki and blush mixed with pastel shades of waterfall, misty blue and aqua tears gradually intensify to deep saturated tones and neon brights, making a bold splash for the transition into summer. A drapey culotte jumpsuit in waterfall, complimented with drawstring waist and seductive neckline details, pairs with a lemon zest hat and printed platform sandals to embody the relaxed mood of the season," says Reese.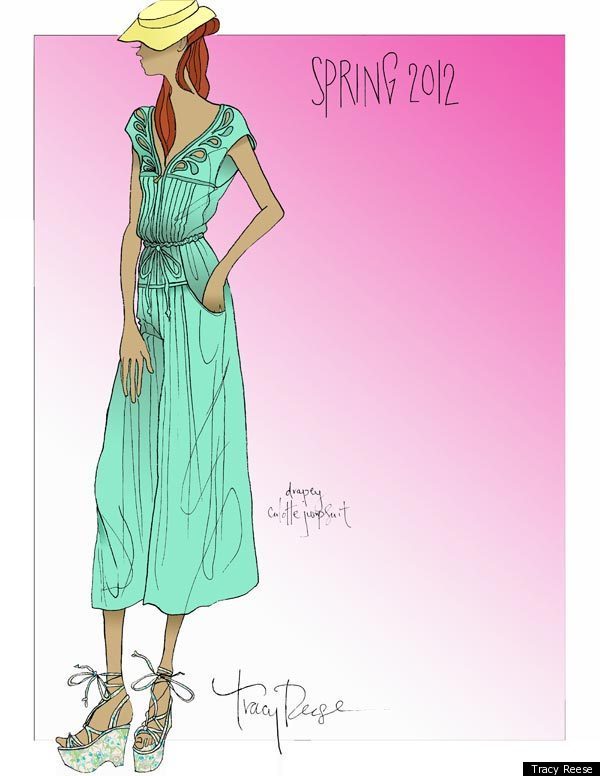 Her ladylike designs are a favorite of the most powerful lady of them all--the First Lady, Michelle Obama.
Two days before her September 11 presentation--between begging factories for her final samples-- Reese will be dancing the night away at her second annual Dance-A-Thon in celebration of Fashion's Night Out. So, if you're in the New York City area, make sure to stop by the Tracy Reese flagship store and boogie down in the name of fashion. We've got our dancing shoes ready!
Checkout a few of our favorite Tracy Reese moments: