Stow Lake Boathouse Fight: A Battle For the Soul Of Golden Gate Park
The first thing you notice about the Stow Lake Boathouse is that it could really use a fresh coat of paint.
The light green trim framing the boat rental facility and its attendant snack bar is chipping. White spots from a decade of bird poop speckle the wooden roof under a flock of cooing pigeons. The fleet of boats bobbing in the lake's still, green water are in similar shape, with paint cracking under a light film of dirt.
The effect on a visitor, however, isn't revulsion—the boathouse's state of disrepair isn't yet at that point—but instead a curious sense of transportation. The lake, and the boathouse perched on its northwestern edge, feel like a world in and of themselves. While only a few short steps away from the newly remodeled de Young Museum and the California Academy of Sciences, Stow Lake seems miles removed from the sleek luxury of those multi-million dollar attractions and the jostling city that frames them. It feels infinitely closer to something one would stumble across on a hike along a path in the Sierra foothills or on a drive down a dusty country road in the Adirondacks.
What it certainly doesn't feel like is the type of place beholden to the political machinations and legal battles that mark San Francisco politics at its most passionately bitter. It doesn't feel like the type of place that could bring down one of the city's most powerful lobbyists and upend a family-owned small business that's operated here for well over half a century.
The events that unfolded over the past five years culminated in Bruce McLellan, whose family has run the boathouse for more than 68 years, packing up shop for good on Monday, marking the end of an era at Stow Lake. And while San Francisco just won a major battle against McLellan, the legal war over the boathouse will surely rage for a long time to come.
Out For Bid
McLellan's grandfather first proposed the Stow Lake Boathouse's construction in 1948. In the more than half a century since then, San Fransicsco's Recreation and Parks Department has, without fail, renewed its contract with the family's Stow Lake Corporation in uninterrupted, 15-year installments.
Five years ago, when McLellan's lease with the city last came up for renewal, the department decided it was time for a change. Parks officials were fed up with what they saw as the boathouse's deteriorating condition and wanted to give the facility a major renovation. But they didn't think they would be able to sell the public or the Board of Supervisors on issuing a bond to pay for improvements to a privately-operated concession stand, nor did they think they'd be able to create the type of groundswell of public support socialite Dede Wilsey tapped into when she famously raised $200 million to finance the reconstruction of the adjacent de Young.
When the department initially put the contract to run the boathouse up for bid, officials changed the terms of McLellan's lease to month-to-month. While it's standard policy to put private operators on month-to-month leases when their agreements with the city expire, the uncertainty of his situation disincentivized McLellan from sinking any more money into the boathouse's upkeep—causing the structure to crumble even faster.
Check out this slideshow of photos from the Stow Lake Boathouse (story continues below):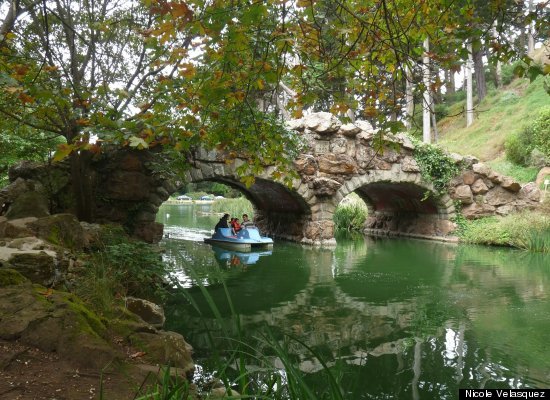 Total comments:
15
|
Post a Comment
A laminated flyer posted on the wall of the boathouse explains the situation to visitors:
The Stow Lake Corporation has unfortunately been on a month to month lease since December 1, 2006...and could be required to vacate the premises on 30 days notice.

We are ready and willing to purchase new boats once we get a lease and we will also refurbish the boathouse.

Without a lease, there is no way we can spend in excess of of $200,000 for upgrading the Concession. We are not proud of the appearance of the boathouse or our boats. Although the boats are seaworthy and safe, we agree they look tired. For that we apologize.

Thank you for your support, understanding and patience. We are ready to take immediate action if and when we secure a new lease

Sincerely,
Stow Lake Corporation
Department officials were very specific in precisely what they were looking for in a new boathouse operator, and it took them five rounds of bidding over a four-year period before they found a company offering exactly what they wanted. The New Mexico-based Ortega Family Enterprises specializes in taking over "struggling" concessions in national and state parks and overhauling them; Ortega told the selection committee exactly what they wanted to hear.
Ortega representatives proposed over $200,000 in renovations to the boathouse, including the construction of a commercial kitchen and the conversion of the current boat repair shop into an indoor dining facility. By contrast, McLellan (whose bid had been rejected by the department in the four previous rounds) offered to spend $20,000 on improvements to the structure's interior and $20,000 on its exterior.
"The Ortega family is a great match for Stow Lake on a number of levels," said Recreation and Parks Department Director Phil Ginsburg in a press release announcing the new partnership with Ortega, who also recently won Marin Conservation Council's Green Business Award for their renovation of a cafe and gift shop in Muir Woods. "They have the business expertise to revitalize the boathouse, are sensitive to the site's historic preservation needs, are environmentally conscientious, are committed to providing healthy, affordable and locally produced foods, and they understand the importance of maintaining the traditional charm and feel of Stow Lake that San Franciscans love."
Then things started to get messy.