The recent success of double-amputee Oscar Pistorius at the 13th World Championships in Athletics -- he qualified for the semifinals in the 400 meters event -- will go a long way toward demonstrating the capabilities of disabled people.
At least that's how Baxter Humby sees it. He's a world champion superwelterweight Muay Thai boxer despite not having a right hand.
Still, he's clapping for Pistorius.
"His [achievement] opens up doors and shows that we can compete with the able-bodied in sports," Humby told HuffPost Impact.
On the other hand, Kurt Yaeger, who was a professional BMX rider before losing his left leg below the knee in a motorcycle accident a few years ago, has high hopes Pistorius' accomplishment -- which could lead to him being in the 2012 Olympics -- will kick open doors for not only other amputees but all disabled people.
But he also isn't sure that it will.
"I'm glad he never listened to the people who told him no," said Yaeger, who is now an actor. "I'm not sure Oscar's accomplishments help me in what I do. They definitely don't hurt, but, regardless, I'm going to keep knocking down barriers one role at a time."
At the very least, Yaeger is hoping that Pistorius' victory means that he himself no longer has to hide his prosthetic in order to get hired.
Although Yaeger has been cast on shows like "General Hospital," "Without A Trace" and "The Bold And The Beautiful," and appears in the upcoming movie "Dolphin Tale" with Morgan Freeman and Winter, the dolphin without a tale, he admits some of his best acting has come just trying to hide his disability.
"I videotaped myself so I could walk perfectly and I always wear long pants to auditions," he said. "I don't disclose it unless it will help get me the job. However, in showbiz, people tend to see a prosthetic leg as a character trait and not as a method of propulsion."
Yaeger says the deception has gone a long way toward improving his acting chops.
"When I go into an audition, the fact that I'm acting without them knowing has given me an ability to step into any role," he said.
There have been a couple cases where the director knew Yaeger's story beforehand and kept the secret long enough for him to get the job and prove he wasn't a liability. And then there are the times when he feels he has to disclose his missing appendage out of fairness.
"If there's a scene where I have to wear shorts, I do disclose my leg so they can make an informed decision," he said.
Yaeger's story of disability deception is unique, especially to the level he's gone to reach his goals. However, Humby, who is his good friend, admits he too has had to hide his disability just to get a fair shot at pursuing his dreams.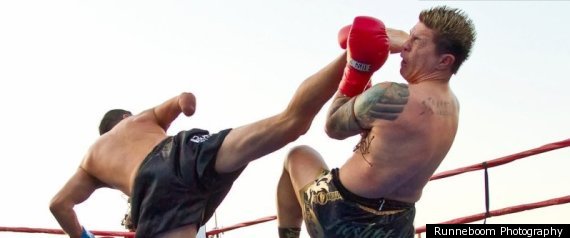 Humby's arm was amputated at birth just below his elbow, after becoming entangled with the umbilical cord.
But you can't fret about what you never had and Humby says his dad started teaching him boxing at the age of four.
Still, the man now known professionally as "the one-armed bandit" probably spent more time fighting various athletic commissions in order to get approved to fight than he has battling the two-armed boxers who presumably had an unfair advantage.
"They claimed it was a liability, so I would have to beat the guy as quick as possible to prove I deserved to be there," he said, adding that he does wear gloves on both arms.
Humby admits there were times when he would hide his right hand until just before the match so no one could object. He also competed in "smoker fights" that weren't sanctioned in order to build up his record so he could get better quality fights.
Things improved for Humby as he built his reputation and also when he switched to Muay Thai boxing a while back.
"I actually do have an advantage in this sport," he admitted. "Muay Thai allows you to throw elbows to the head and, with me, the head and forearm don't get in the way."
But despite his status as a world champion -- and the unique claim to fame of being Tobey Maguire's stand-in in "Spider-Man 3" in the scene where Spidey punches through the Sandman -- Bumby is still fighting perceptions that, as a disabled man, he's not the equal of other competitors.
"I am constantly proving myself, even though I'm world champion," he said.
The flatness of text might make the last quote sound like he's complaining, but, make no mistake: Humby is not griping about his circumstances. Instead, he wants others to understand the only thing that can keep a person from their dreams is their mind.
"If I can be a world champion with one hand, there's no excuse for anyone else," he said.
Both Pistorius' and Humby's struggles hit home with Yaeger, who credits his mental makeup with helping him handle the loss of his leg.
"I've never been a wallower," he told HuffPost Impact. "Oh, I had my days, but I've always been the type of guy who figured if you want something done right, you'd have to do it yourself. Plus, I've always been willing to break the rule when someone tells me I can't do something."
One rule Yaeger broke was avoiding physical therapy. Well, he did go, but only for one day.
"It was like geriatrics," he said. "I expected to work out my prosthetic leg, but they wanted me to stand on my good one. After that day, they told me they could do nothing for me."
Traditional physical therapy doesn't recommend amputees attempt somersaults on BMX bikes, but that was Yaeger's goal. It took a while -- and some technical innovations -- but he did it.
"The key was proton-lock magnetic pedals," he said. "I'm not locked in, but there is just enough pressure to keep them attached, but if there is trouble, I can turn my feet and get out."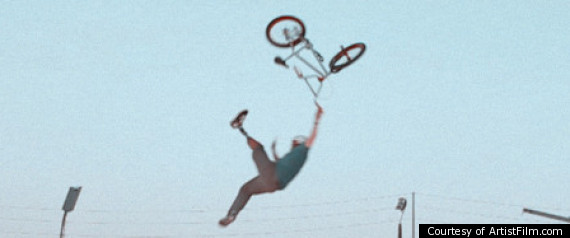 That allowed Yaeger to relearn how to do a somersault, but, sadly, not the double one he had mastered in his prime, he said.
"To be honest, my two-legged self would wipe the snot of my one-legged self in a competition," he said.
Yaeger still participates in exhibitions, but chose to focus on acting, something he dabbled in while racing. It's something that Humby is also pursuing.
Despite the difficulties facing disabled actors and athletes like Humby and Yaeger, there is one place in Hollywood where they are in demand: Stunts that require someone to have their arm or leg blown off.
Humby sees this as a way to get his foot in the door, but Yaeger has so far kicked such offers to the curb.
"I stay away from stunt roles, unless they have me doing the character before they lost the leg," he said. "I figure if they want the missing leg, they have to hire the other 75 percent."
Although both Humby and Yaeger look at Pistorius as a sign that things are changing for the better, Yaeger also admits there are other disabled people whose efforts to make their dreams come true make his efforts seem small by comparison.
"There is a cop in San Francisco who still serves on the force despite missing a leg and there are guys who climb Mt. Everest with no legs," he said. "To me, that's really intense."
WATCH: BAXTER HUMBY HANDILY BEATS OPPONENTS DESPITE HAVING ONE HAND
SUBSCRIBE TO & FOLLOW TRUMP'S FIRST 100 DAYS
How will Donald Trump's first 100 days impact YOU? Subscribe, choose the community that you most identify with or want to learn more about and we'll send you the news that matters most once a week throughout Trump's first 100 days in office. Learn more