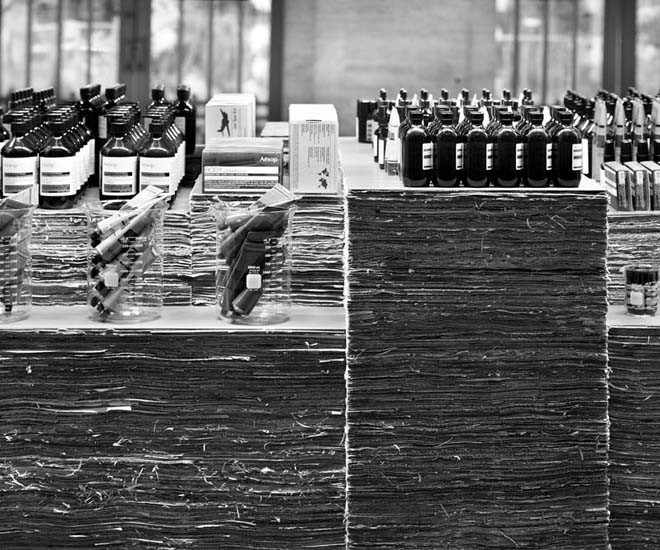 Photos: Courtesy of Aesop
We're already huge fans of Aesop -- we've been using their Jet Set Kit ever since we picked it up at their new Grand Central kiosk, which opened a few months back. And now the Aesop expansion continues further downtown: Their first U.S. brick-and-mortar store is officially open in Nolita, and we're pretty excited. The Australian line takes an incredibly unique approach to each store: With high-concept designs and elaborate displays, the effect is more art installation than your everyday apothecary. One of their locations in Melbourne is made entirely of 100% industrial strength cardboard, another space in Taipei is literally covered -- wall to wall -- with books and a store in Adelaide features a ceiling sculpture made of 5,700 amber glass bottles. We were in Paris earlier this year where we saw their teeny outpost in Merci, equipped with the most industrial-chic hand-washing station.
We stopped by their new Elizabeth Street shop yesterday, which exudes that same quirky appeal. With a nod to its new home, New York City, the entire store has been covered with 400,000 pages of The New York Times. The space is pint-sized (at best) but manages to stock the entire range. And like other Aesop locations, features a giant sink for customers who want to road-test their products on site.
The brand will open two more New York locations later this fall -- one on University Place and another in the West Village on Bleecker Street.
Aesop Nolita, 232 Elizabeth Street. aesop.com