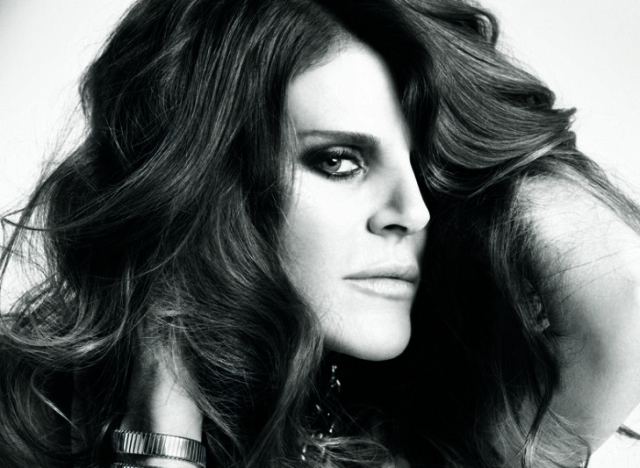 Anna Dello Russo and fast fashion may not seem like a likely pairing, but somehow Macy's managed to get the Vogue Nippon editor and street style star on board to guest-edit a collection. To ADR herself, however, the partnership did not seem so far fetched, "They called me six months ago, to propose to me this collaboration and of course, I was honored," she said thoughtfully while sitting in a suite at the Mondrian Soho, "It was a new challenge for me, exploring a different market and using my knowledge in this way, but I am an editor. Editor's the right term for my work with Macy's because I edit pieces."
Not that Dello Russo is not known for wearing off-the-rack, but it would be easy to imagine her wearing this collection. To discuss her Macy's partnership, she fittingly wore a simple black dress accessorized with gold and ruby-colored jewelry. Dello Russo declared that October is all about yellow "mixed with all black and gold chunky style jewelry." Fittingly, one of the models wore a chic black leather jacket with a gold-yellow blouse, black lace up booties and lots of bracelets. Who knew ADR was such a pro at high-low mixing?
In addition to promoting her collaboration with Macy's by attending Fashion's Night Out, Dello Russo is really in New York to do what she does best: attend fashion week. While she might claim to love every fashion week (Dello Russo hasn't missed a season in 22 years), not all cities were created equal: Paris is her all time favorite fashion week destination. "Paris just embodies fashion." Regardless, Dello Russo will be making appearances around Europe to see Mary Katrantzou in London, "all my friends in Milan" such as Dolce & Gabbana, Prada, Gucci, Armani and Fendi and Paris, of course, for Balenciaga and Givenchy. The queen of Fashion Week is in New York for one reason, and one reason only: "Marc. Always Marc Jacobs, but now it's postponed because of the hurricane. Then I had to wait until the 15th. Marc Jacobs for me is the best designer." Just Marc? "For me, New York was always about Marc Jacobs, because he's so talented. I always came for him but now, I'm really obsessed by the younger generations. Last season I went to Alexander Wang's store opening, I mean, it's incredible. He's so young and he already has a big flagship."
Although she wouldn't tell us specifically who she will be wearing this season ("A lot of stuff. New stuff, never seen before") Dello Russo admitted, "I started preparing for Fashion Week five months ago. To collect stuff, to get special pieces…" It must be hard living up Tommy Ton's expectations, we'll just have to wait and see!
See Anna Dello Russo get her model on with Karolina Kurkova below, " I feel so comfortable with her, she's a fantastic model.":