Apple's iPhone has won the J.D. Power smartphone customer satisfaction survey for a sixth straight time.
The survey ranked Apple smartphones as number one in customer satisfaction, followed by HTC smartphones, Samsung and Motorola. Only Apple and HTC scored "above industry average," according to the survey.
Here are the complete rankings in graph form, with scores out of 1000: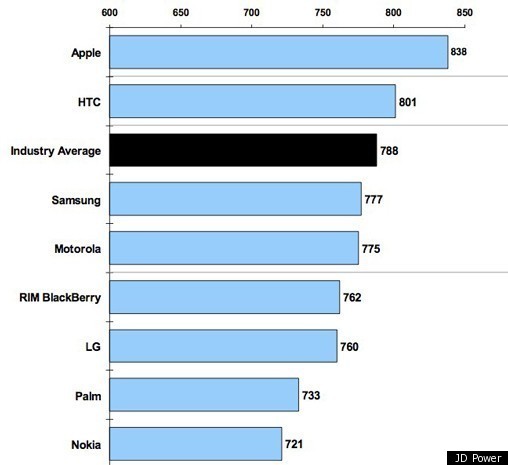 The survey, which is conducted twice a year, took into account 4 factors: "performance (35 percent); ease of operation (24 percent); features (21 percent); and physical design (20 percent)." The iPhone scored highest in "ease of operation" and "features." (Features, according to J.D. Power, includes "how customers rate their smartphone's toggle or navigation wheel, touch screen, stylus, and calendar" as well as "quality of multimedia capabilities and quality of video of the smartphone."
Noticeably absent on this survey is battery life, which appeared on the previous J.D. Power smartphone survey. Last time, the iPhone's battery life lowered Apple's score (though not enough to ever take it out of the top spot).
Other key findings in the J.D. Power survey: 5 ounces appears to be the upper limit that smartphone users will be satisfied with, as devices under that weight scored far higher than those above it. The survey also noted that touchscreen-only phones scored far higher with their owners than phones that combined touchscreens and physical keyboards (bad news for Blackberry, which recently unveiled several touchscreen/keyboard devices).
A next-generation iPhone (or two) is widely expected to be released in early October; and if reports are true that the new device will be thinner and lighter than the previous models, expect Apple to once again grab top honors on the next J.D. Power customer satisfaction survey. According to a recent Mobile Phone Track report, Apple's two current iPhones (the 4 and the 3GS) are already the highest selling smartphones in America, followed by HTC's EVO 4G and Inspire 4G.
HTC is currently suing Apple over smartphone patents. WATCH:
FOLLOW HUFFPOST