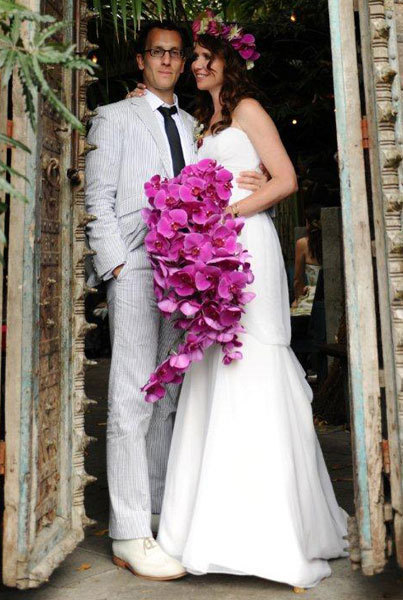 Photo Courtesy: Stefanie Keenan for Janie Bryant and Peter Yozell
When acclaimed "Mad Men" costume designer Janie Bryant walked down the aisle to marry husband Peter Yozell on September 4, she made an unexpected yet poignant fashion statement.
If "Mad Men" fans imagined her wearing a silhouette cut for Joan Holloway's curves or designed to replicate Betty Draper's classically polished looks they were in for a not-so -retro surprise.
The woman who outfits the impeccably turned out ladies of Sterling, Cooper, Draper Pryce wore a modern, strapless chiffon gown by Priscilla of Boston; the recently shuttered design house known for outfitting some iconic brides of the '50s, '60s and '70s.
While a vintage Priscilla might be the perfect choice for a "Mad Men" bride, Bryant chose her gown to create a contemporary romantic vibe for her wedding to Yozell, a tour manager for some high-profile American rock bands.
The couple, who met about one and a half years ago, married in an intimate Jewish ceremony before 75 close friends and family at the Cliff's Edge, a favorite restaurant near their home in the Silver Lakes section of Los Angeles.
"I didn't want a big, beaded, voluminous dress that felt like a costume," Bryant tells Stylelist. "People expect me to be over-the-top -- I have a tendency to be that way -- but I wanted to wear a dress that felt like the perfect summer day. I wanted it to fit the day and the idea that it was about creating a feeling of intimacy and celebrating our love. I very much wanted to wear a dress that felt comfortable. I definitely didn't want something wearing me. "
Of course, there were some dramatic flourishes: For her solo walk down the aisle, Bryant wore her long brown hair down in soft waves topped off with a birdcage style veil accented with floral and feather accents that swept over the right side of her face. Her dress featured subtle fabric rosettes at the waist, a "beautiful train" and an overlay of silk chiffon. She carried a cascading bouquet of bold purple orchids and wore her favorite shoes; fuchsia Valentino sling-backs. After the ceremony, she replaced her birdcage veil with an orchid wreath.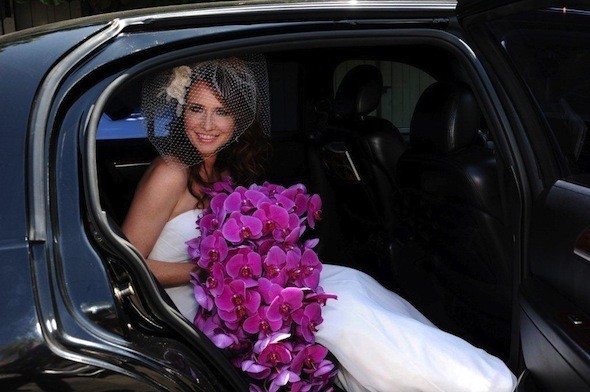 Photo Courtesy: Stefanie Keenan for Janie Bryant and Peter Yozell
The groom, whom Bryant described as "a wonderfully stylish, amazing man," designed his custom Brooks Brothers seersucker suit and wore ivory suede Cole Haan spectators.
The fact that Priscilla of Boston announced just days before Bryant's nuptials that after 65 years the business would cease making wedding gowns and close its 19 American showrooms was a coincidence, the bride says.
The label 's original showroom on Boston's famed Newberry Street, became a sought-after destination for brides-to-be after Grace Kelly chose its founder, seamstress Priscilla Kidder, to design the bridesmaid dresses for her 1956 fairy-tale wedding to Prince Rainier of Monaco. In 1965 Kidder personally outfitted President Lyndon Johnson's daughter, Luci, for her Washington, D.C. wedding and did the honors again in 1971 for the wedding of Tricia Nixon Cox.
On August 31 the private equity group that has owned Priscilla for several years announced the brand was folding "after a thorough review of the business environment" and expressed a commitment to fulfill all pending orders by December 31.
Bryant considered Priscilla on the recommendation of her close friend, Arthur Wayne, a public relations executive with Brooks Brothers. "The question for me was always what is the gown I'm going to love? And I just went out looking for the dress that felt perfect. When I tried it, I knew this was it."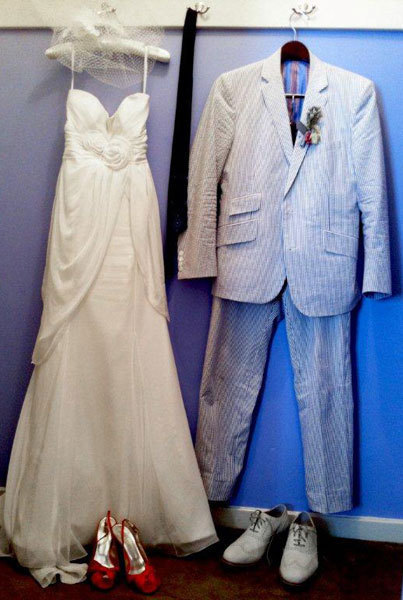 Photo Courtesy: Stefanie Keenan for Janie Bryant and Peter Yozell
Still the significance of wearing the label wasn't lost on the Emmy-nominated designer. "When my seamstress told me at my final fitting they were closing it took my breath away," she says. "I thought, "My gosh, no more Priscilla gowns." It's the end of an era and I suppose I'm one of the last Priscilla brides. And yet I also felt l so honored to be wearing the last of their collection."
Bryant noted her Valentino shoes were also from the designer's final collection. "It wasn't deliberate," she says with a laugh. "But maybe there's a theme."
As for the wedding, Bryant pronounced it "truly magical." "It was a day to celebrate us and it was exactly the way we imagined it."