Architectural Inspiration: Rustic Wood Walls
The reclaimed wood walls almost overshadow the fab food and drink at MB Post, a restaurant in Manhattan Beach, California. Stephen Francis Jones, the architect behind the hot spot's design, lets us in on how you can create your own rustic walls.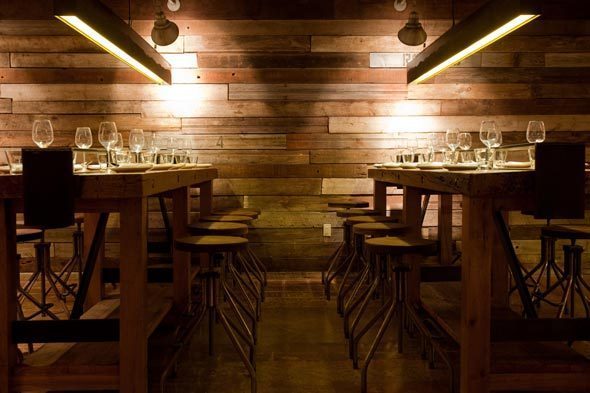 Stephen Francis Jones
To give the new restaurant a cozy, lived-in feeling, architect Stephen Francis Jones turned to reclaimed wood. Though reclaimed wood is a hot commodity in the design world, Jones tells me that you can actually buy it online through Trestlewood.com. "You can actually pick out the bundle of wood you want, down to the colors and textures," Stephen says. "Just keep in mind that it is 'recycled', so you may get a few bad pieces in the mix."
And to create the wood wall, Stephen recommends starting out with a drywall surface that's been painted black. Then, simply adhere the wood to the wall with construction glue and nail with finishing nails.
You can also use the reclaimed wood wall technique on an exterior surface. Check out MB Post's entrance: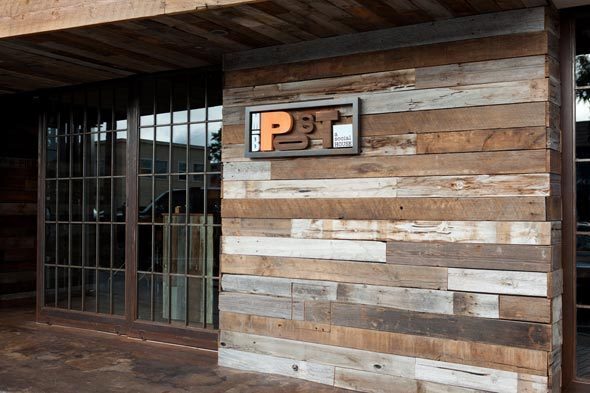 Stephen Francis Jones
Feeling inspired to see what else reclaimed wood can do? Check out....
In the Spotlight: Eco-Friendly Flooring
Trend Spotting: Five Non-Paint Wall Ideas
Design Influence: Wood - Shelterpop