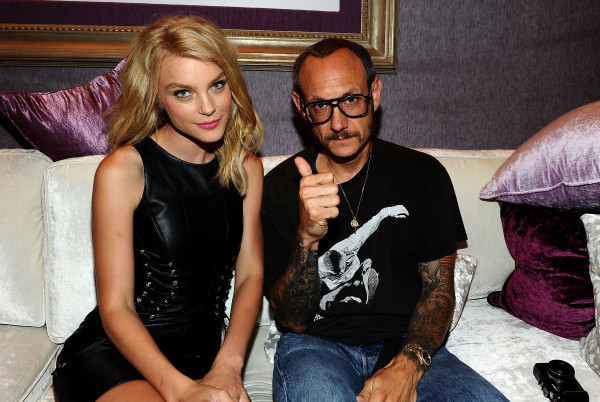 Getty Images
Fashion Photographer Terry Richardson recently shot a commercial for Mercedes Benz starring model Jessica Stam in Germany in the factory where the car engines are made. We sat down with the two of them together in the appropriately named Mercedes Benz Star Lounge at Lincoln Center to discuss the experience and all they wanted to talk about was the food: Stam started off with, "Stuttgart....we ate lots of Wiener Schnitzel." They continued naming memorable German food: "spaetzle," "wiener spaetzle?" "Spetzleah."
Although though they seemed to love German food, Richardson and Stam are both Manhattan residents and have their favorite local spots. In New York, Richardson likes to eat at Seo, Bar Pitti, Takahachi and Omen while Stam favors Little Frankies and Westville. Both agree, however, that no restaurant compares to the experience of eating dinner at Azzedine Alaia's house in France, "He is a very good cook. Amazing," Richardson says. What did Alaia whip up? "Steak and salad and potatoes and rice. It was incredible. He cooks everything... I think there is someone helping him [in the kitchen], but he is in there throwing steaks around. It is really sweet." Stam agrees, saying that Alaia is also the designer she is most excited for this season - both she and Richardson will be attending Paris Fashion Week after New York ends. Stam sighs, " I am a homebody and would rather be home, but for the actual Fashion Week… And I love being in Paris. I love Paris."
While in New York, Stam and Richardson have been busy attending shows (Stam will "probably walk for Marc Jacobs") and parties. Richardson will spend fashion week on a day-by-day basis as "there are just so many events... I am a little overwhelmed." Unfortunately, this plan can backfire: "Sometimes I don't even know what is going on. I have to call people to find out. Because nobody has invited me." Or maybe not, since he quickly followed up with, "No, I am just teasing."
See more New York Fashion Week coverage.
Here is a peek at Jessica Stam and Terry Richardson's collaboration for Mercedes Benz:


SUBSCRIBE TO & FOLLOW LIFESTYLE
We're basically your best friend… with better taste. Learn more