Pasieka, Popular Polish Bakery, Destroyed In Massive Avondale Fire (VIDEO)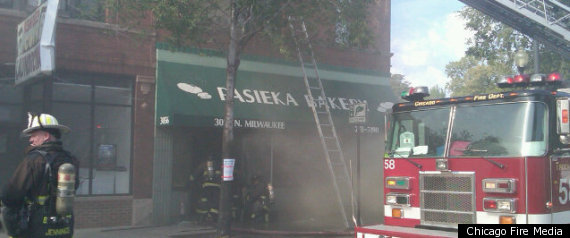 An extra-alarm fire that took nearly four hours to be put out by firefighters destroyed a well-liked Polish bakery located on Milwaukee Avenue in Chicago's Avondale neighborhood Monday.
Firefighters responded to a still-and-box alarm call at Pasieka Bakery, 3056 N. Milwaukee Ave., around 9:20 a.m. and some 150 were called to the Northwest Side scene as they proceeded to fight the blaze until it was extinguished around 12:45 p.m., the Chicago Sun-Times reports.
Chicago Fire Department representatives say the fire was sparked by an oven that either malfunctioned or was misused, according to NBC Chicago. No injuries were reported within the bakery or in apartments located directly above it.
The Chicago Tribune reports that the bakery has been a fixture in the Avondale neighborhood for more than 75 years and offered familiar flavors for area residents of Polish descent. The bakery was also a favorite of some high-profile politicians, including Hillary Clinton.
A two story-high sign painted on its outside brick wall -- reading "the best baked goods bought at Pasieka" -- acted as "the equivalent of the Puerto Rican flags in Humboldt Park," according to Daniel Pogorzelski, the executive director of the Greater Avondale Chamber of Commerce.
"It's a sign that, ah, you've entered the Polish village," Pogorzelski told the Tribune.
A perusal of the bakery's Yelp review page also indicates that the business is well known for their paczkis, jagodzianki and poppyseed rolls.
WATCH a video report on the Avondale fire: