Charles Scott Howard: The Miner Who Took On Big Coal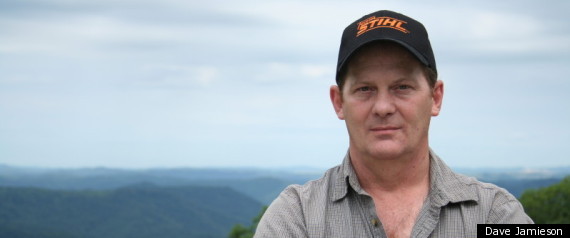 WHITESBURG, Ky. -- On a July morning four years ago, Charles Scott Howard left his home in the mountains of Southeastern Kentucky and drove his pickup truck 150 miles to the Crowne Plaza Hotel in Lexington. A career coal miner, Howard was headed to the posh hotel to testify at a public hearing held by the federal Mine Safety and Health Administration (MSHA), a regulatory arm of the U.S. Department of Labor. Howard bore a reputation throughout much of Kentucky coal country as a stubborn and fearless whistleblower, and just about any miner in the area who hadn't already heard his name would hear it by the following morning.
Up for discussion was the subject of faulty mine seals -- a safety problem that had brought considerable grief to the mining communities of Appalachia. Mine seals are meant to keep certain atmospheres within mines separated from one another in the event of a blast. When they fail, blasts can turn deadly. In January 2006, an explosion at the Sago Mine in West Virginia trapped 13 miners, ultimately killing 12 of them. Four months after that, an explosion at the Darby Mine in Harlan County, Ky., claimed the lives of five more. Reports later cited weak seals as factors in both tragedies. At the hearing in Lexington, the widows of three Darby miners urged officials to adopt strict seal regulations and resist any entreaties by the coal lobby to loosen them.
Howard was the only working miner to appear before officials that day. His testimony came in the form of a video he'd shot in his own mine, which was run by the Cumberland River Coal Company, a subsidiary of the second-largest coal producer in the U.S., Arch Coal. Before Howard aired his video in front of a packed room, his attorney, Tony Oppegard, noted repeatedly for the record that what Howard was about to do should be considered protected whistleblower activity under federal law. Indeed, what Howard's video showed were mine seals so fractured that water spurted out through their cracks. (The video can be viewed here.)
Many attendees were agog -- not just at the potentially dangerous scenario at the mine, but at the gumption of Howard, who seemed to be showing video of his own mine. (Although Howard refused to disclose the name of the mine publicly, officials could later determine the mine by listening to the video with the audio turned on.) The company, Howard said according to a news report at the time, had built the seals "the cheapest way to do it," with "the least man hours" possible, putting the lives of miners in danger.
The Sago disaster was very much on Howard's mind at the time. "They were allowed to build old, crappy seals," he'd later say of the Sago mine operator. "And it's a shame them fellers had to be smothered to death."
After Howard aired his video, an MSHA official said, "I want somebody at that mine right now."
The response to the video was swift. In the meeting sat a safety manager from another mine run by Arch, according to court documents. The manager called his superior and relayed the news: Scott Howard had shown video of leaking seals, and the footage would probably make the evening news. Up the chain it went until it finally reached Gaither Frazier, then the general manager of Cumberland River. Frazier, who'd stepped out of a management meeting to take the call, told his team what Howard had done. Inspectors would soon be blitzing the mine.
At that point, Howard had already hustled out of Lexington -- he had a shift to work at the mine, and he didn't want to be late. But the MSHA inspectors beat him to the scene. During the next two weeks, the investigators would visit the mine several times, ultimately citing Howard's employer for two alleged safety violations related to seals. The morning after the MSHA hearing, Howard's airing of the video made the front page of the Lexington Herald-Leader.
For Howard, the video incident is only the most public of his many tussles with Big Coal over the years. Having worked in the mines for three decades, he's been disciplined, fired, and otherwise branded a troublemaker for speaking out about unsafe conditions. His troubles have all sprung from the simple but rigid code that he works by: He refuses to do anything that he believes may endanger himself or his fellow miners. Under the relentless pressures to produce coal, upholding such a code comes with great personal risk.
"There's no other miner like him in the United States," says Oppegard, who's been representing Appalachian miners against coal companies for more than 20 years. "He's done things that no one else has done."
Despite significant safety improvements in modern times, coal mining remains one of the more dangerous jobs in America. Last year 48 miners died in the country's mines -- the most in nearly two decades -- largely because of the disaster at West Virginia's Upper Big Branch, where 29 perished. Aside from death and maiming, miners take serious long-term health risks in doing their jobs, as thousands of miners continue to suffer from black lung disease. And although Upper Big Branch prompted hearings on Capitol Hill, Congress still hasn't produced a mine safety bill for the president to sign, even though a year has passed since the tragedy.
For Howard, the video incident marked the beginning of a long and still-unresolved battle, one that pits the miner against his benefactor and, ultimately, safety against profits. Howard has filed five whistleblower discrimination complaints against his company in as many years. (A spokesperson for Arch said the company could not comment on Howard's complaints for this story, due to ongoing litigation.) Howard has lost his job twice -- both times because of his safety advocacy, his lawyers have maintained -- and he has twice been reinstated at work by a federal judge. He doesn't lose his lawsuits; he either wins or settles them -- and settles them only reluctantly.
His work and his advocacy come with stress and danger. Last summer, he suffered a traumatic brain injury while working underground at his mine in an accident that he says has never been fully explained to him.
"Outside, safety is first," Howard likes to say. "But when you go underground, coal is all that matters."
* * * * *
Howard lives in a double-wide trailer set on 12 mountainside acres outside Whitesburg, Ky., population 1,600. It's the kind of coal town where tractor trailers rumble down narrow mountain roads hauling coal, and the pickups roll by with bumper stickers that read "Coal Miner's Daughter" or "Save a Miner -- Shoot a Tree Hugger."
Howard's reputation here as a health and safety activist is an unlikely one, considering he plucks Marlboro Lights from his breast pocket throughout the day and has a bad habit of driving without his seat belt fastened. But his constant battling with his employer has as much to do with miners' rights as with miners' well-being.
"It's hard to be biting the hand that feeds you," Howard said one recent morning. "But I guess that's what I'm doing, the way they see it. It's hard to fight against the people you depend on for the income to feed your family."
Howard was driving his GMC pickup through the Kentucky mountains, a depiction of Christ wearing a crown of thorns in his rear window. Fifty-one years old and with a slight paunch, Howard wore a black cap advertising Stihl chainsaws and a leather belt with a gold plate spelling out his name.
"I've had workers say, 'Why do you work here? Why do you fight the company?' " he went on. "Well, I don't fight the company. They fight themselves."
Regardless of who instigates it, the fighting has been nearly constant for five years. Not long after he aired his video, Howard became concerned with blocked escapeways in his mine. These are the pathways that miners travel down to leave the mine in the event of an emergency. Howard says that the passages were strewn with rocks as large as refrigerators and water up to his waist, and that no one in management addressed the situation. So he reported his own mine to the feds, via MSHA's tip hotline.
Subscribe to the HuffPost Hill newsletter!