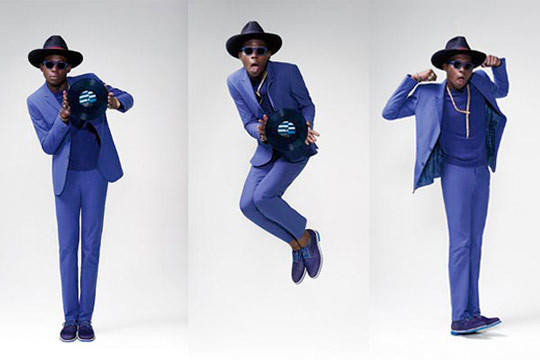 Each season, the fashion industry hand picks their own musical muse — usually a star on the rise who ends up performing at every single industry soiree from New York to Paris and whose hit single is played at a number of the big ticket runway shows. This past February it was all about Adele and before that, Florence Welch. This time it's rapper/singer Theophilus London, and although he's still one of hip-hop's under-the-radar talents, he's quickly becoming fashion's musical darling of the moment.
This week, London's not only been spotted front row at the Tommy Hilfiger Men's show, performing hits from his new album "Timez Are Weird" at Tommy's FNO party and hanging at Imitation of Christ and Carlos Campos, he's also promoting his new shoe collaboration with Cole Haan. Last night at their Soho store, London was on hand to mingle and perform, telling us that his new blue suede bucks were, "very cool." He continued, "it was fun to do, but I wish I made them for women. That's all I really care about is pleasing women, not so much men. Don't you want a pair?"
London also weighed in on yesterday's somewhat shocking news that Kanye West will be showing his new collection during Paris Fashion Week, starting September 27th. When we asked what he thought about Kanye's move into the world of fashion design, he responded enthusiastically, "I think it's sick man, I totally back him. He actually emailed me this morning and invited me to the show, so I'm definitely going to hop on a plane in a couple weeks and be there for him. He's Kanye, he can do anything."
We also suggested that it'd be amazing if he'd team up with Kanye and/or Jay-Z on his next album. "We'll see, I mean that'd be a dream come true. It's cool they even support me, but right now I'm just chillin."
Though he was quick to claim his "chillin" status several times throughout our conversation, it doesn't appear that this guy's slowing down any time soon. With a fashion collaboration already under his belt, the attention of iconic designers and an open invitation to what's bound to be the most talked about show at Paris Fashion Week, London's got a swagger we'll be following all season long.
Check out some photos from last night's Cole Haan event below.
FOLLOW HUFFPOST