The New York Daily News website fleetingly implicated NFL legend Jerry Rice in a scandalous Sarah Palin rumor.
The Internet was ablaze on Wednesday with leaked details about an upcoming book on the Alaska governor. The juiciest (though rather dubious) rumor? That Palin had a fling with former NBA star Glenn Rice. Though the book has been getting some pretty vicious reviews, the story was made for the tabloids, and the Daily News splashed the rumor on its front page Thursday morning. For a time, though, it made a crucial mistake by saying that it was Jerry Rice, not Glen Rice, who was the subject of the rumor. The error was eventually corrected.
Below, see a screengrab of the Daily News' flub.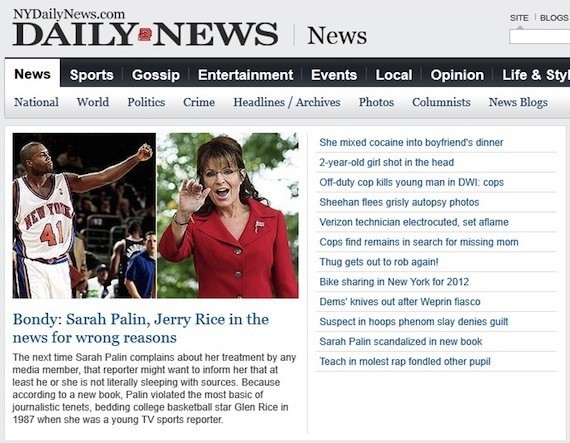 RELATED VIDEO: