UPDATE: Scroll down for updates on who ended up actually winning.
The Emmys have arrived, and and so has our complete list of who who deserves the highest honors in television. We began with the actresses, where "Mad Men" has a fair shot at sweeping the dramas. As for the actors, we're holding out hope for a Peter Dinklage win and some "Friday Night Lights" love.
Today, we have the Big Ones for Outstanding Drama and Comedy series. There are plenty of good contenders, but there can only be one to out stand them all. Read on, and let us know in the comments if you agree. You can find the full list of nominees here.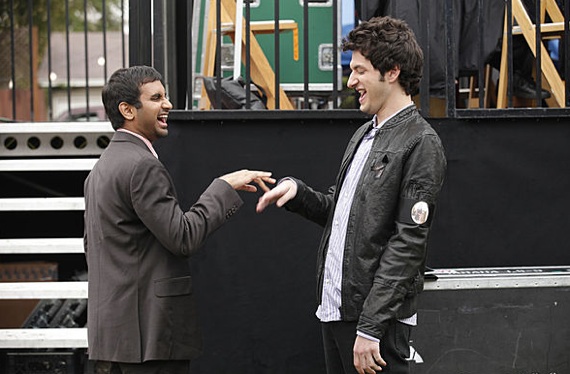 Outstanding Comedy Series
Should Win: Parks and Recreation
"Parks and Recreation" isn't quite "Arrested Development" yet, but it's getting close. Critics love it, ratings are low, and so it goes. This season ranks as the best so far, with high marks to the weird and perfect Andy/April wedding episode, and the continuing evolution of Ron Swanson as a libertarian folk-hero. Still the real distinction that sets it apart is its heart, healthy and persistently thumping even through the thickest stretch of a joke. Consider this season's Li'l Sebastian funeral episode, in which Andy faces his own mortality while writing a remedial song for the town's favorite pony celebrity. It's smart and sweet and takes itself just seriously enough, which is still further than the rest. If the equally red-blooded "Louie" were in here, or even "Community," I might call this a draw, but as it stands, "Parks and Rec" is the bridesmaid with full capacity to be the bride.

- Mallika Rao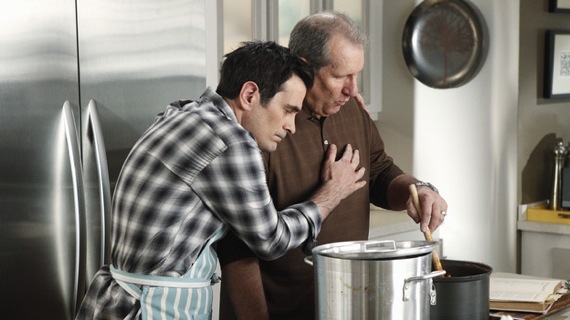 Outstanding Comedy Series
Will Win: Modern Family
"Modern Family" is one of those shows where Emmy voters and the rest of us can easily agree. Even if your personal favorite is "Parks and Recreation" or "The Office," there's no denying that "Modern Fam" deserves the award at least equally as much. The cast of characters endeared themselves to audiences from the get-go, and their charm hasn't worn off two seasons in, even when they're showing the worst versions of themselves. This likely works in its favor, though, as family is where most of us show the worst versions of ourselves. But instead of being painful, it's hilarious, and somewhat comforting, to witness the show deflate its characters for 20 minutes, and redeem them in a few minutes at the end. That last part isn't always true to life, but it offers that little thing called perspective we often miss on our own.

- Gazelle Emami
Who Won: Modern Family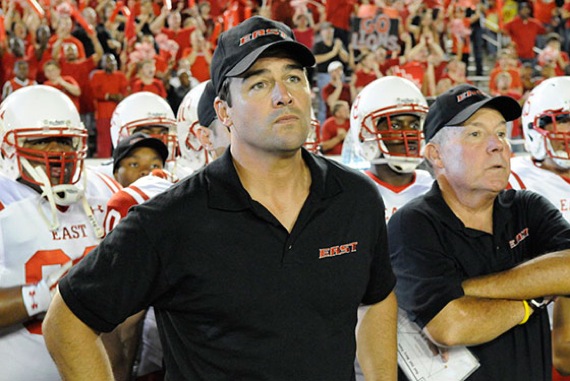 Outstanding Drama Series
Should Win: Friday Night Lights
FNL lovers are a vocal bunch. The die-hard-FNL-ers (like myself) want anyone and everyone to watch every episode of every season -- even the missteps in season 2 -- so that they too can fall for these finely-drawn characters. We'll shove FNL down your throat, in fact. But it's all out of love. For my money, no show in the history of American television has so lovingly and beautifully captured the spirit of small town life like "Friday Night Lights," without ever being flashy or pandering. And though the fifth season wasn't its finest, there is no shame in rewarding it as a series. After being virtually ignored by Emmy-voters for most of its five-season run, it would be such a joy to watch this show get the love it deserves. And to see Taylor Kitsch in a tuxedo! Am I right, ladies?! Ladies!

- Lucas Kavner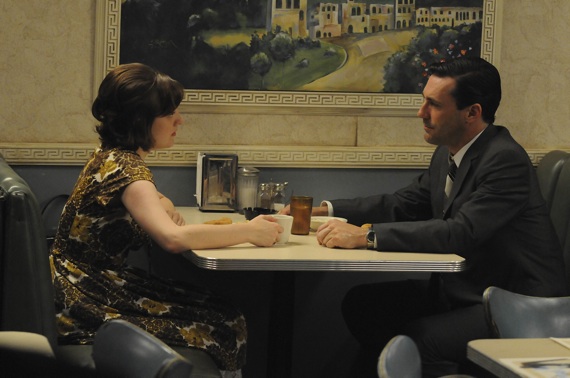 Outstanding Drama Series
Will Win: Mad Men
Let's make it four in a row, shall we? Though "Mad Men" is up against a strong batch of competitors, including HBO's glossy Prohibition-era drama "Boardwalk Empire," fan favorite "Friday Night Lights," and more, none seem likely to break the AMC show's winning streak. Though this season was not quite as coherent as earlier seasons, this year's exploration of Depressed Don Draper still delivered the show's usual series of indelible images (the women in the elevator at the end of "The Beautiful Girls," Roger forced to don a Santa Suit at the holiday party, Peggy zooming around on a Honda bike for a fake commercial) and emotional punches. Jon Hamm, Elisabeth Moss, Christina Hendricks, John Slattery, as well as Robert Morse, Carla Buono and Randee Heller are all up for acting Emmys, with two episodes up for Best Writing.  

- Amy Lee
Who Won: Mad Men
Read on for our picks for the outstanding actors this year.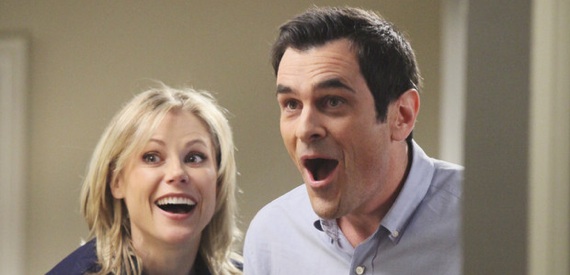 Outstanding Supporting Actor, Comedy
Should Win: Ty Burrell, "Modern Family"
Will Win: Ty Burrell, "Modern Family"
Who Won: Ty Burrell, "Modern Family"
Should a dramatic role done well win when it's categorized under comedy? Such is the case with Chris Colfer of "Glee." He's powerful in his submitted episode, which has him dealing with a sick father and classmates shoving religion down his throat. But this is a category for comedies, so if you make me cry instead of laugh, I just can't take you seriously. Sorry, dramedies. Which brings us to our real comedies -- with four out of six odds, "Modern Family" either has a really good chance, or they could split the vote and leave us with Jon Cryer ('Two and a Half Men") or Colfer the victor. My money's on "Modern Family" pulling through, and out of the four "MF" nominees, the field can be narrowed down to Ty Burrell and Ed O'Neill. O'Neill is long overdue for recognition of his contributions to comedy, but that's what honorary awards are for. No one makes me laugh more than Ty Burrell as the clumsily lovable Phil Dunphy, and isn't that what this is all about?

- Gazelle Emami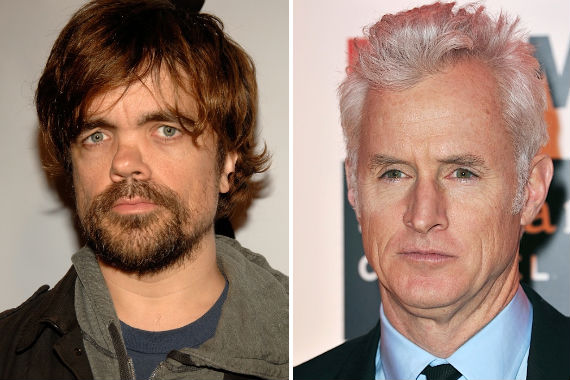 Outstanding Supporting Actor, Drama
Should Win: Peter Dinklage, "Game of Thrones"
Will Win: John Slattery, "Mad Men"
Who Won: Peter Dinklage, "Game of Thrones"
It's a tough break for the two nominees from "The Good Wife"; while Alan Cumming may deserve the Emmy, he'll undoubtedly split much of the vote with Josh Charles. Dinklage deserves the prize, too, no doubt -- people love his character (which explains, in large part, the popularity of "Game of Thrones") -- and he's great in the season's best episode, "Baelor," which was submitted to jurors. In "Baelor," Dinklage, the only cast member nominated for an acting prize, gives a memorable speech about a woman he fell in love with as a child who turned out to be a prostitute paid for by his family. It's a rare example of emotional range for a show that is usually caught up with fantasy twists and turns. But it seems a "Mad Men" sweep may be upon us, and so no surprises if John Slattery picks up the trophy. Too bad, also, for the wonderful Walton Goggins. "Justified" just isn't the type of show for an Emmy voter.

- Paul Needham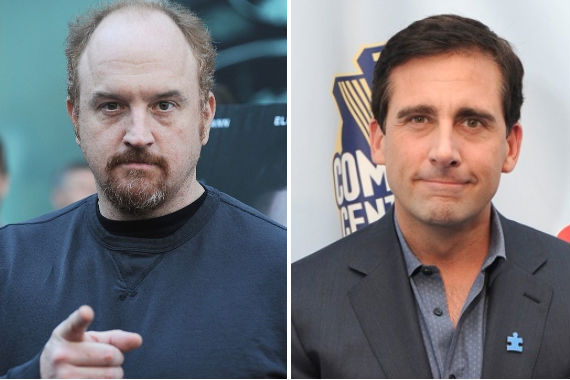 Outstanding Actor, Comedy
Should Win: Louis C.K., "Louie"
Will Win: Steve Carell, "The Office"
Who Won: Jim Parsons, "The Big Bang Theory"
Though the race makes for a tough call -- Steve Carell is long overdue for Emmy recognition for his consistently hilarious Michael Scott -- no other actor was more fearless and fascinating to watch last year than Louis C.K. He's unafraid to show weakness and never panders to the Gods of TV, providing himself a platform to show off not only his surprising acting chops and sublime subtlety, while also proving he's willing to do just about anything (as long as it's truthful) for a laugh. Of course, we wouldn't be sad to see Carell walk away with it this year. He's been joyously commanding "The Office" for years and this past season -- though it might have been one of the weaker ones -- added an extra dose of sentimentality that warmed our hearts (remember that part with the candles and the proposal and all that? What a mensch.) Let's be honest: this one is Carell's to lose.

- Lucas Kavner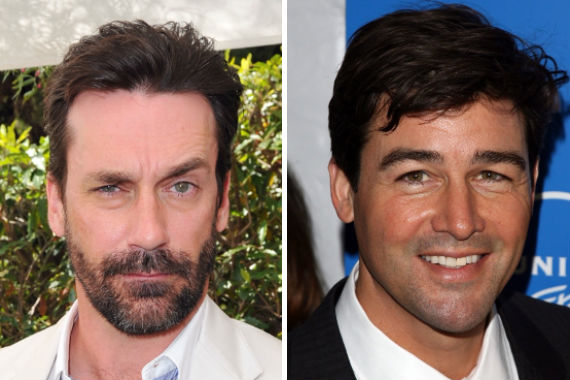 Outstanding Actor, Drama
Should Win: Jon Hamm, "Mad Men"
Will Win: Kyle Chandler, "Friday Night Lights"
Who Won: Kyle Chandler, "Friday Night Lights"
This category belongs to one of two actors in my mind-- Jon Hamm or Kyle Chandler. Hamm is phenomenal in his submitted episode, "The Suitcase," with a range that travels from bitter old man to vulnerable puppy. We see him cry -- Don Draper emotes. This puts the viewer in an odd position. It's similar to watching your dad cry for the first time -- you're not sure what to do, but it's overwhelming to witness. Hamm is a hard act to follow, but Chandler makes a good case for himself in "Friday Night Lights." As the strong-willed Coach Taylor, his range is more subtle, but he runs the gamut from compassion to pure anger all in the flicker of an eye. Plus, as this is the last chance for "Friday Night Lights" to ever be recognized, a win either here or in the Best Drama category would be both appropriate and well-deserved. This doesn't change the fact that I went into this thinking Jon Hamm should win -- I still do. But more and more, the sentimental value of a Kyle Chandler win is appealing. My mind is telling me no, but my heart is saying this is where the Emmys will surprise us.

- Gazelle Emami
Read on for our picks for the outstanding actresses this year.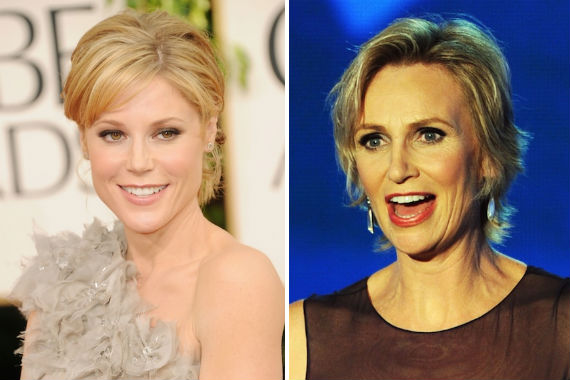 Outstanding Supporting Actress, Comedy
Should Win: Julie Bowen, "Modern Family"
Will Win: Jane Lynch,"Glee"
Who Won: Julie Bowen, "Modern Family"
Jane Lynch won last year, and creature of habit the Emmy beast is, we're guessing she'll take it again. Even as "Glee" became the headquarters for Public Service Announcements, Lynch managed to keep Sue Sylvester more or less in biting form. The episode she's nominated for, "Funeral," is the murkiest example of this. (Sue's sister dies, Sue gives a speech, Sue is kinder, gentler, etc. etc.) But there's enough patina to the Sylvester brand at this point to guarantee everyone Emmy-related has seen all sides of what Lynch can do...after all, she's hosting the damn thing. That said, I like Julie Bowen as The One Who Should Win. "Modern Family"s sophomore season upped the ante on Bowen's physical comedy chops, and she proved herself more adept than any of her competitors. The potential upsets to this delicate equation are also the crowd-pleasers: Sophia Vergara and Betty White, who've put in strong, consistently goofy turns as the foreigner we love to giggle at and the granny we love to giggle at, in MF and the surprisingly-funny "Hot In Cleveland."

- Mallika Rao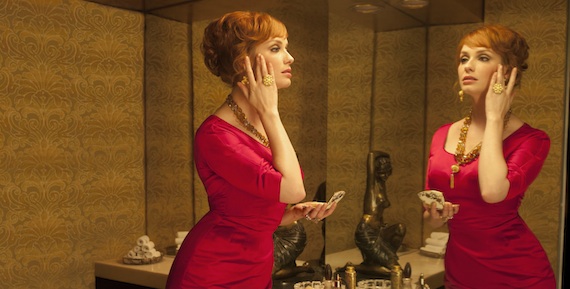 Outstanding Supporting Actress, Drama
Should Win: Christina Hendricks, "Mad Men"
Will Win: Christina Hendricks, "Mad Men"
Who Won: Margo Martindale, "Justified"
Last year's winner, Archie Panjabi, is still reason enough to watch "The Good Wife," but this time around we're calling it for "Mad Men"s Christina Hendricks. The submitted episode, "The Summer Men," pits Hendrick's Joan against a new male temp who undermines her looks and any corresponding power. "She's like my mother," he says, and indeed the skill of Hendricks' performance is how she seems to age in counterpoint to his contempt, until she's practically petrified rock. "I'm a meaningless secretary and you're just another humorless bitch," she tells Peggy, after Peggy fires the temp in a flush of hopefulness. (Hope: dashed). There may be contenders --- Panjabi or "Justified"s Margo Martindale to name two -- but as we know, Hollywood loves a transformation.

- Mallika Rao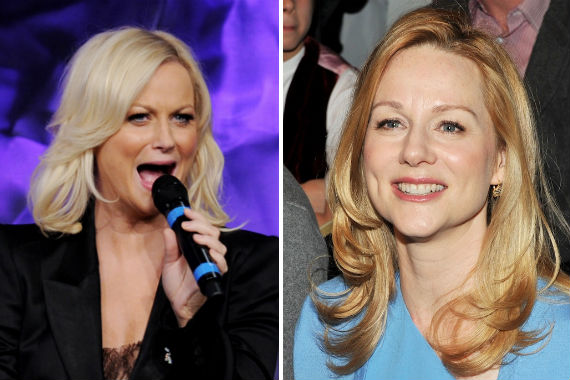 Outstanding Actress, Comedy
Should Win: Amy Poehler, "Parks and Recreation"
Will Win: Laura Linney, "The Big C"
Who Won: Melissa McCarthy, "Mike and Molly"
Poehler has taken a character that in anyone else's hands could be quite the turn off to modern audiences (I mean: a straight edge, domineering woman in power in a small town parks department?) and made her not only absurdly likable, but one of the funniest leading ladies on television. She's leading a strong ensemble, no doubt, but Poehler has anchored a show that seems to get better with every episode. The only reason for The Big C's continued existence seems to be Laura Linney, who could probably make a show about two people in an empty room drinking water entertaining (note to studios: that's my trademarked idea, so back off.) Nobody's the biggest fan of the series itself, but nobody can deny Linney's star power and obvious chops. She's an awards season favorite in movieland, too, so that will undoubtedly help her odds.

- Lucas Kavner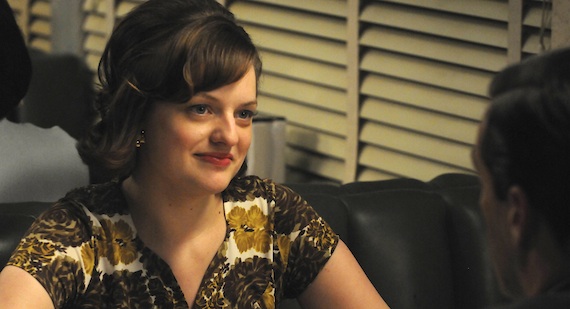 Outstanding Actress, Drama
Should Win: Elisabeth Moss, "Mad Men"
Will Win: Elisabeth Moss, "Mad Men"
Who Won: Julianna Margulies, "The Good Wife"
This should be Elisabeth Moss's year. Though she was nominated in the Best Supporting Actress category last year, the move to Best Actress in 2011 seems natural given her considerable presence on this season of "Mad Men." Voters love the moody, aesthetically stunning, classed-up melodrama, but no actor on the show has won an Emmy yet (Jon Hamm's been nominated every year). This year, both he and Moss submitted episode "The Suitcase" to the awards. That's no surprise -- "The Suitcase," aside from being one of the highlights of "Mad Men"'s fourth season, is made up almost completely of scenes between the two actors. Trapped together in the office together, over the course of the evening Peggy and Don journey through emotional highs and lows that end up feeling more like watching a particularly intense play than just another episode on a TV show. And Moss's Peggy has had one of the most tumultuous character arcs of any character on the show, transforming from timid secretary to self-assured ad exec. Despite challengers including Julianna Margulies for Emmy favorite "The Good Wife," and Mariska Hargitay, a winner five years ago for "Law and Order: SVU," my pick to win is still Moss.

- Amy Lee