Rockies Fall To Giants 6-5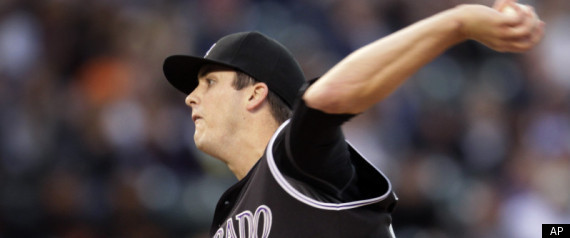 DENVER — The Colorado Rockies are known for their September surges. This year, however, they're struggling just to finish the season.
Pablo Sandoval homered twice in an eight-run fourth inning, part of a six home run barrage that led the late-charging San Francisco Giants over the Rockies, 12-5 on Sunday for their eighth straight win.
On its longest winning streak since April 2007, San Francisco closed within four games of Atlanta, the NL wild-card leader.
Ty Wigginton and Seth Smith had two hits apiece for Colorado.
While the Giants are surging, the Rockies are fading fast. They've lost five of their last six and played without three of their best players. Shortstop Troy Tulowitzki, outfielder Carlos Gonzalez and first baseman Todd Helton were out with injuries, forcing manager Jim Tracy to use a patchwork lineup against the defending World Series champions.
"A lot of people are banged up this time of year," center fielder Eric Young Jr. said. "I'd rather have everybody healthy going into the 2012 season ready to go than have anyone try and push it right now and make it even worse and not be ready to go in spring training."
Even with a lineup that had five players called up from Triple A in the last few weeks, the Rockies couldn't take advantage of Giants starter Matt Cain, who had his shortest outing since April.
Cain (12-10) allowed five runs – three earned – five hits, four walks and two hit batters in five innings. He helped himself with two hits, including his first home run since May 13, 2008, against Houston.
In a four-game sweep of the Rockies, the Giants piled up 35 runs and 48 hits. Sandoval led the way with a seven hits, including three homers, in three games. He started the series by hitting for the cycle Thursday and ended it with his second multihomer game this season.
Sandoval led off the fourth with a homer to center off Esmil Rogers (6-6). One out later, Brandon Belt homered and Brandon Crawford doubled. Cain followed with a homer to center.
Sandoval ended the rally with his 22nd homer, a drive into the right-field bleachers, for 10-1 lead.
Mike Fontenot had given the Giants a 2-0 lead with a two-run homer in the first, his 15th.
"The ball was very true going through the strike zone and somewhere between belt and mid-thigh area," Tracy said. "When you do that, you're going to get hit by good big league hitters. That's exactly what happened."
Colorado scored twice each in the fourth and fifth innings to close the gap, but a solo homer by Crawford, his third of the season, helped the Giants stay comfortably ahead.
Rogers allowed nine runs and seven hits in 3 2-3 innings, dropping to 0-4 with a 7.81 ERA since winning three straight starts in late July and early August.
"I'm down and frustrated. I don't know what to do," Rogers said. "I lost all my pitches, I don't know what happened. It's my fastball command, I came in a little bit high and they hit me. That's the difference."
NOTES: The previous Giants player to homer twice in the same inning was Juan Uribe last Sept. 23 against the Chicago Cubs. ... Tulowitzki (left hip) has missed five straight games and seven of the past nine. Helton (back) has missed five straight games and 11 of the past 13 games, and Gonzalez (right wrist) missed his third straight game. ... Colorado finishes its home schedule with a three-game series against San Diego starting Monday.
Copyright 2014 The Local Paper. All rights reserved. This material may not be published, broadcast, rewritten or redistributed.