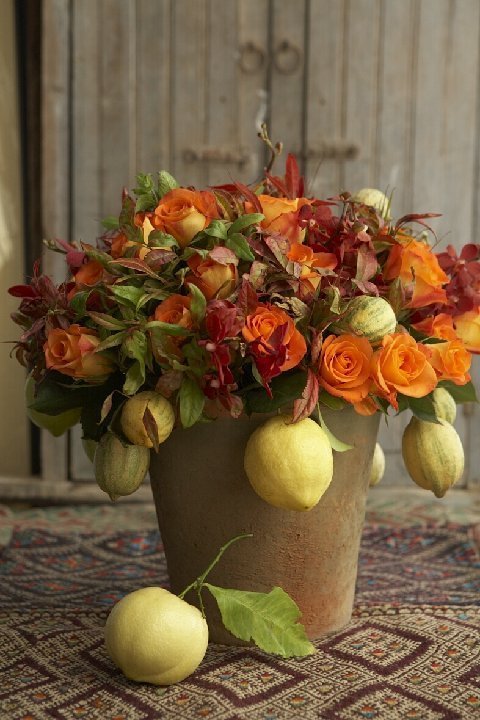 "Flowers for the Home-Inspirations From the World Over by Prudence Designs" by Grayson Handy and Tracey Zabar, Published by Rizzoli, Photographed by Ellen Silverman
Flowers used:
-4 stems of lemon branches
-10 stems of 'Red Robin' photinia foliage
-1 dozen of 'Gold Strike' roses
-8-10 stems of vanda orchids

Materials:
Terra-cotta pot, plastic liner, floral knife, floral foam brick, floral clippers, floral water tubes

Steps:

1. Line a terra cotta pot (one that is aged, if possible) with a plastic liner to prevent leakage. If a ready-made plastic liner is unavailable, fully line the interior of the pot with a piece of seamless cellophane. Trim any visible cellophane.

2. With a floral knife, cut a piece of floral foam to fit snuggly in the liner. Fill the liner with room-temperature water; soak the foam in water until it is saturated.

3. Cut the lemon branches at an angle. Insert them into the foam. Allow the fruit to hang over the edge of the pot to soften the arrangement.

4. After the lemon branches are positioned, cut the stems of 'Red Robin' photinia at an angle. Insert them into the foam to create texture and interest and frame the orchids.

5. Add the vanda orchids. Cut the stems at an angle. If the stems are too short for your composition, insert them into floral water tubes to add height. Gently push the tubes into the foam.

6. Cut the stems of the 'Gold Strike' roses at an angle and insert them into the foam to complete your arrangement.

Tips:

If lemon branches with fruit are unavailable, purchase individual lemons, pierce each one with a wooden skewer, the cluster and insert them into your arrangement to create a natural effect.

For added color and drama, scatter loose lemons on the table around your arrangement, or pile them in a bowl placed nearby.

Other fruits and vegetables, such as artichokes, grapes, pomegranates, figs, and oranges, are also perfect for arrangements. Match the fruits or vegetables you use to the season or occasion.
SUBSCRIBE AND FOLLOW
Get top stories and blog posts emailed to me each day. Newsletters may offer personalized content or advertisements.
Learn more