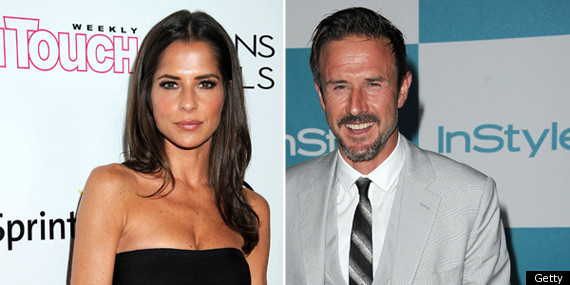 Kelly Monaco, who won the first season of "Dancing With the Stars" in 2005, has a hard time hiding the fact that she thinks David Arquette is a huge contender in this season of the hit dancing competition.

"I love David Arquette. After speaking with him, I think he is doing it for all the right reasons. He told me he needs a good distraction and a positive hobby and I think he will get a lot out of it," Monaco told HuffPost Celeb.

In the past, I've called "Dancing With the Stars" a "federal bailout" for the fallen famous. Similarly, Monaco is turned off by stars who are obviously looking for a career boost and says she doesn't think they will win.

"I shy away from the people who are there for a mass media explosion," Monaco said. "The winner is the one who takes the journey and uses it to their advantage spiritually and emotionally."

What makes this season particularly exciting for the "General Hospital" star is that all the competing celebs, including Nancy Grace, Elisabetta Canalis, Kristin Cavallari and the man formerly known as Ron Artest, are dance amateurs.

"No one in the cast has any extensive dance experience which I love," Monaco said.

Monaco has already talked each of the new contestants while working with E! News on their "DWTS" coverage in advance of her new reality show, "Dirty Soap," which premieres September 25. The show follows Monaco and some of her fellow soap stars to chronicles their real-life drama.
Monaco's current reality? Recovering from her recent breakup with her high school sweetheart Michael Gonzalez after their 18-year relationship.

"I'm not ready to start dating. Eighteen years is a really long time. I am ready to find out who Kelly is," Monaco said. "That doesn't mean my friends aren't trying to push me to date. Because everyone thinks they know what is best."
Check out who will be on Season 13 of "Dancing With The Stars" below!