Family vacations in Washington, D.C., can be rewarding experiences or absolute disasters -- it all depends on pretrip homework. To make planning easier, we've done all the preparation. As part of a Huffington Post Travel series on traveling with children, here are answers to some frequently asked questions about Washington, D.C., family vacations.
White House Easter Egg Roll
If you happen to be in Washington, D.C., on the Monday after Easter, make an effort to attend
the annual Easter Egg Roll
held on the White House grounds. Popular bands and cartoon characters are typically part of the festivities, plus every attendee receives a souvenir wooden egg. On many occasions, the president and his family are on hand to wave to the guests.
Address: 1600 Pennsylvania Avenue, NW, Washington, DC 20500
Phone: 202-456-1111
Hours: The first Monday after Easter.
Price: Free, but tickets are necessary and can be obtained online at a designated time.
The National Mall & Memorial Parks
The
Lincoln Memorial
, the
Vietnam Veterans Memorial
wall and the
Thomas Jefferson Memorial
are just three of the famous landmarks you will find as you stroll through the
National Mall
. Towering over the National Mall is the
Washington Monument
, a 555-foot-tall obelisk. All of the sites on the National Mall are free to visit.
Address: 900 Ohio Drive, SW, Washington, DC 20024 (mailing address)
Phone: 202-426-6841
Hours: 365 days, 24 hours a day. Rangers are on site at the memorials between the hours of 9:30 a.m. and 11:30 p.m.
Price: Free
Sandy Point State Beach
Sandy Point State Beach
, which is located about an hour away from D.C. in Maryland on the Chesapeake Bay, is one of the closest beaches to the D.C. area. The park has a large sandy beach and 786 acres that includes hiking trails, picnic shelters and areas for crabbing and fishing. Sandy Point State Beach's relatively quiet waters are also popular among windsurfers.
Address: 1100 East College Parkway, Annapolis, MD 21409
Phone: 410-974-2149
Hours: Jan. 1 to March 31, 7 a.m. to sunset; April 1 to Oct. 31, 6 a.m. to sunset; Nov. 1 to Dec. 31, 7 a.m. to 5 p.m.
Price: Admission is free, but parking is $3 per vehicle from Nov. 1 to mid-April; $5 from mid-April until end of October
National Arboretum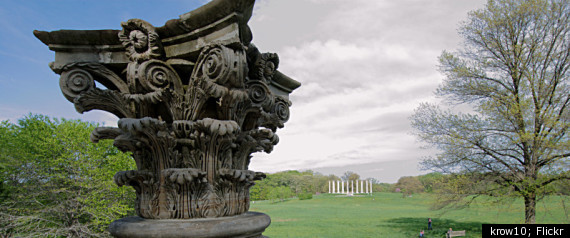 The Smithsonian's National Zoo is one of the few zoos in the United States to have giant pandas on exhibit, making it a must see. In addition, the zoo has many other endangered species on exhibit. A big hit with kids is the naked mole rat exhibit, which is located in the small mammal house. Tip: This zoo is built on a hill. Plan your trip so that you are walking downhill at the end of the day when you or the kids may be the most tired.
Address: 3001 Connecticut Ave., NW, Washington, DC 20008
Phone: 202-633-4888
Hours: Open every day except for Christmas. From April to October, 10 a.m. to 6 p.m.; November to March, 10 a.m. to 4:30 p.m.
Price: Free, except for parking, which is $15 for the first three hours. $20 for more than three hours.
Water Mine Family Swimmin' Hole
The Water Mine Family Swimmin' Hole
is a fun, family-friendly water park with slides, an interactive play area, a kiddie section and a two-and-a-half-mile lazy river. This clean park is geared more towards elementary-age children, but has water activities that will entertain all ages. The Water Mine is located in Reston, Va., approximately 20 miles from Washington, D.C., and is set in picturesque
Lake Fairfax Park
, which has a carousel and also offers paddleboat and canoe rentals.
Address: 1400 Lake Fairfax Drive, Reston, VA 20190
Phone: 703-471-5415
Hours: Open generally from 10 a.m. to between 5 p.m. and 8 p.m. Opens for the season on Memorial Day weekend and closes after Labor Day.
Price: $13.50 for over 48 inches tall, $11.25, under 48 inches tall; 2 years and under, free; after 5 p.m., $8.25, except for weekends and holidays
Smithsonian Natural History Museum
If you can visit only one of the Smithsonian's many museums in the D.C. area, the
National Museum of Natural History
is a good choice for families. This museum, which was recently seen in the movie, "Night at the Museum: Battle of the Smithsonian," is home to the famous Hope Diamond and also has several interactive exhibits, including a butterfly pavilion and an insect zoo where visitors can touch some of the creepy crawlers. A big budget helper -- all of the Smithsonian museums, which are sometimes referred to as the nation's attic, are free to visit.
Address: 10th Street and Constitution Avenue, NW, Washington, DC 20560
Phone: 202-633-1000
Hours: Open every day except for Christmas Day. The museum is open at 10 a.m. and usually stays open until 5:30 p.m. On some holidays, the museum stays open until 7:30 p.m.
Price: Free
Ford's Theatre
In 1865, President Abraham Lincoln was assassinated by John Wilkes Boothe while watching a play in Ford's Theatre. Today, you can still visit this site of the tragic occurrence in our nation's past. The tour of Ford's Theatre takes you past the box where Lincoln sat when he was shot and you can see for yourself how for the assassin leapt from the box to the stage, making his escape.
Address: 511 Tenth St., NW, Washington, DC 20004
Phone: 202-347-4833
Hours: Typically, the box office opens at 8:30 a.m., and the site opens at 9 a.m. Final entry is normally at 4 p.m. for the museum and 4:30 p.m. for the theater. As it is still an operating theater, it does close from time to time for rehearsals and performances.
Price: Advance tickets are $2.50. A limited number of first-come, first-serve free tickets are available at the box office each day.
What's your favorite vacation spot in Washington DC?
Lead photo: schindler_project; Flickr
Mid photo: krow10; Flickr
Check out more FAMILY TRAVEL GUIDES.
SUBSCRIBE TO & FOLLOW LIFESTYLE
We're basically your best friend… with better taste. Learn more