Wisconsin's Selling Of School Choice, Walmart Family Heirs And Others Changing Education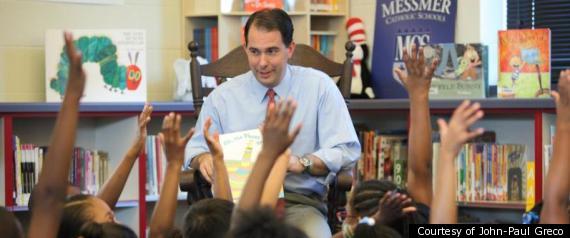 This piece comes to us courtesy of the Wisconsin Center for Investigative Journalism.
This is the first of a three-part series by Bill Lueders examining the forces behind the tremendous success of the school choice movement in Wisconsin.
Part One explores the role of contributors such as the Walton family, heirs to the Walmart fortune, and others who support the use of public money for private schools. Part Two, to publish Wednesday, looks at the role of the Legislature and the array of well-connected individuals lobbying for changes in law and policy. Part Three, to publish Saturday, focuses on the expansion of the school choice voucher program to Racine and proposals to extend the program in other ways.
Public schools in Wisconsin will have to make do with $800 million less from the state over the next two years, under the budget passed by Gov. Scott Walker and the Republican-led Legislature. But state spending on programs that provide public dollars to private schools will see a net increase of nearly $17 million.


And, for that, these private schools can thank Alice Walton and her family.


Walton, the multi-billionaire heiress to father Sam Walton's Walmart empire, was the largest individual contributor to successful state legislative candidates in the 2009-2010 election cycle that brought Republicans to power in Wisconsin, according to data from MapLight, a nonpartisan organization that tracks the relationship between money and politics.


Walton, a horse lover and arts patron who lives in Millsap, Texas, gave a total of $16,100 during this cycle to these candidates, the data show. In fact, six of the top 15 individual contributors to last fall's successful state legislative candidates were Walton family members.


Other members of the Walton clan contributing to Wisconsin candidates include Alice's brother and sister-in-law Jim and Lynne Walton, sister-in-law Christy Walton, niece Carrie Penner and her husband Greg Penner.


Collectively, these six individuals have given at least $103,450 to Wisconsin candidates since mid-2008, state records show. Walmart's political action committee gave another $9,750 to successful legislative candidates in the 2010 election cycle, according to MapLight.


But the Waltons' contribution to the state's choice program -- which allocates tax dollars to private schools, most religiously affiliated -- goes well beyond campaign contributions. The Walton Family Foundation is a major funder of School Choice Wisconsin, the state's leading voucher advocate, and other state and national groups that play a role in school choice efforts in Wisconsin.


In just the past several months these efforts have produced major gains, including expanding school choice in Milwaukee and extending it to Racine. A vast and interconnected array of choice proponents, many from out of state, is changing the face of education in Wisconsin.


"The new 800-pound gorilla – actually it's more of a 1,200-pound gorilla – is the tax-funded-voucher groups," says state Rep. Mark Pocan, D-Madison. "They've become the most powerful lobbying entity in the state."


NATIONAL MOVEMENT
And in fact, the advancement of school choice in Wisconsin has long benefited from interested outsiders.

In 1997, a group of school choice supporters spent $200,500, more than half from out of state, on postcards and calls to help re-elect state Supreme Court Justice Jon Wilcox. The state Elections Board sued, alleging illegalities. Wilcox and others eventually paid $60,000 in fines -- but not before he voted to uphold the constitutionality of Milwaukee's pioneering voucher program, launched in 1990.


Milwaukee's voucher program had 20,300 full-time equivalent voucher students at 102 private schools in 2010-11, compared to about 80,000 students at Milwaukee's public K-12 schools. The total cost, at $6,442 per voucher student, was $130.8 million, of which about $90 million came from the state and the rest from the Milwaukee Public Schools.


Across the nation, proponents of school choice are sensing opportunity. The National Conference of State Legislatures, a bipartisan policy group, reports that so far this year bills to create voucher programs have been introduced in at least 30 states, and tax credits to those paying private school tuition or giving to private school scholarship funds have been proposed in at least 28 states.


A dozen states and the District of Columbia have school choice programs in place, according to the American Federation for Children, a national school choice advocacy group.  (Click here for a state-by-state map.)


And Wisconsin, home of the nation's first and largest school choice voucher program, in Milwaukee, is a key battleground.

"Wisconsin has a high level of value to the movement as a whole," says Robert Enlow, president of the Indianapolis-based Friedman Foundation for Educational Choice, a nonprofit group that advocates for school choice. The state, he says, is notable for "the high level of scholarship amounts that families can get." And he's pleased that Wisconsin is "catching up with the rest of the country" in expanding choice options to other communities, such as Racine.


Critics see the school choice program as part of a larger strategy -- driven into high gear in Wisconsin by the election of Walker and other Republicans -- to eviscerate, for ideological and religious reasons, public schools and the unions that represent teachers.


"This is a national movement and they are trying to come into Wisconsin now that Republicans are in control to take this opportunity to expand school choice," says Miles Turner, executive director of the Wisconsin Association of School District Administrators, a professional association for state school superintendents. "I think it is a serious attack on public education in Wisconsin and a watering down of one of the best public school systems in the nation."


THE CASE FOR CHOICE
Voucher advocates say they just want to give students an alternative to failing public school systems, which encourages the public schools to do better.


Alice Walton and other family members did not respond to multiple interview requests placed through the Walton Family Foundation since early August. But the foundation states in an annual report that  "increasing the quantity and quality of school choices available to parents" infuses competitive pressure into the educational system, resulting in improvements to all schools.


The report cites statistics showing that "the number of children attending their designated public school measurably declined between 1993 and 2007 -- from 80 percent of the student population down to 73 percent."


The Walton Family Foundation highlights "systemic K-12 education reform" as one of the areas in which it is "making a positive difference." In 2010 it invested $157 million in this cause, including efforts to shape public policy.