The 66th Session of the U.N. General Assembly debate opens today in New York City with remarks from Secretary General Ban Ki-moon and Brazilian President Dilma Rouseff.
Review the live updates from this morning below:
09/21/2011 12:49 PM EDT
| | |
| --- | --- |
| | @ elinegordts : Bolivian president Evo Morales at #UNGA: "Palestine should be recognized as a member of the UN" |
09/21/2011 12:24 PM EDT
Mahmoud Abbas Holds Head In Hands During Obama's Address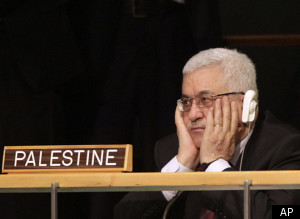 Palestinian President Mahmoud Abbas holds his hands to his face as U.S. President Barack Obama speaks during the 66th session of the General Assembly at United Nations headquarters Wednesday, Sept. 21, 2011.
09/21/2011 12:23 PM EDT
Cristina Fernández de Kirchner Speaks
In 2013 it will be 180 years since the Argentineans were expelled from the Malvinas (Falkland Islands). President Fernández calls on the UK to sit down and negotiate on sovereignty for the Islas Malvinas, which she emphasizes legitimately correspond to Argentina.
09/21/2011 12:15 PM EDT
Cristina Fernández Addresses The UN
Argentine President Cristina Fernández de Kirchner reaffirms the need to create clear rules regarding financial speculation.
Fernández hopes Palestine will take the 194th seat at the UN.
09/21/2011 11:54 AM EDT
Sarkozy Addresses The UN
Sarkozy suggests giving Palestine United Nations observer state status. The ultimate goal must be mutual recognition of two nation-states based on 1967 lines.
09/21/2011 11:49 AM EDT
60 Years And For What? Let's Change Our Method, Says Sarkozy
French President Nicolas Sarkozy says if Israel and Palestine wish to enter into negotiations, there must be no pre-conditions.
09/21/2011 11:32 AM EDT
Nursultan Nazarbayev At The UN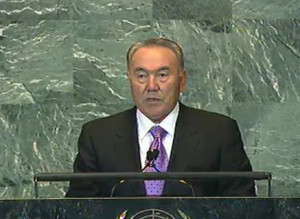 09/21/2011 11:30 AM EDT
President of Kazakhstan, Nursultan Nazarbayev, Addresses The Assembly
Last year Kazakhstan became the first CIS country to join the OSCE.
Nazarbayev calls for dialogue between Islamic world and the West.
09/21/2011 11:23 AM EDT
Mexican President Felipe Calderón Addresses The UN
Calderón: Mexico this year will achieve universal healthcare, with hospital care for any citizen needing it.
09/21/2011 10:55 AM EDT
Obama At The UN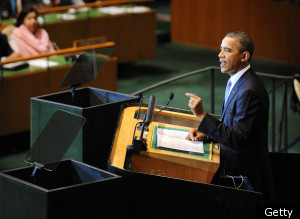 FOLLOW HUFFPOST