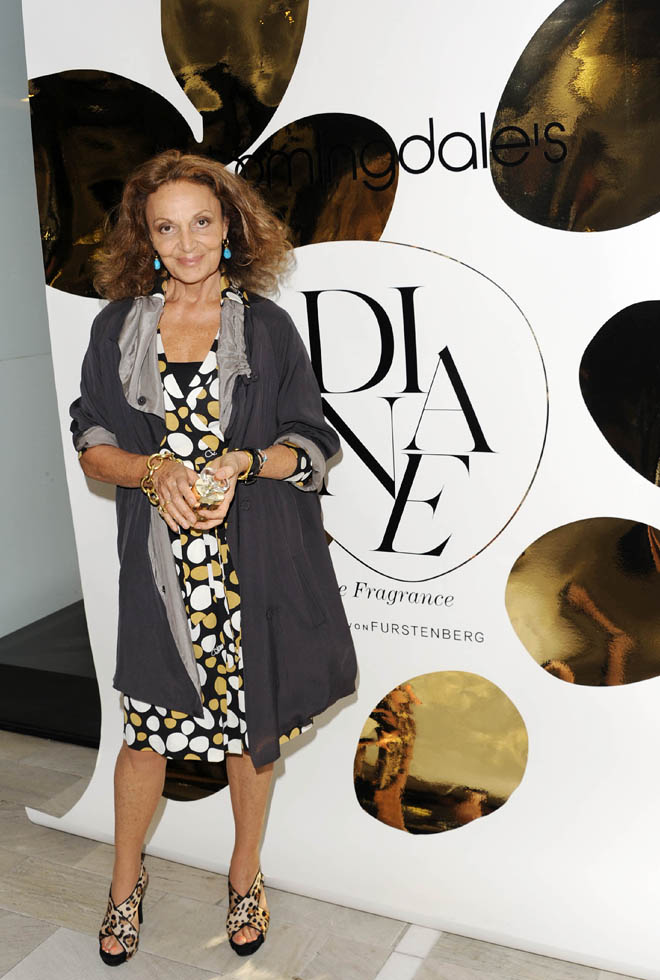 While flash mobs clad in wrap dresses dominated New York City in honor of DVF's eponymous fragrance, Diane, the designer had a subtler approach. She appeared at Bloomingdale's 59th Street location to chat with editors about its much anticipated release.
"I felt like young girls have never been told the power of a fragrance," the designer observed. "For centuries, fragrance has been a weapon of seduction, and it feels like -- except in certain countries -- women have forgotten that, so I really wanted to create a fragrance that has that power."
DVF said the scent was inspired by two kinds of flowers. The first was the Frangipani, which she discovered on a trip to Bali. "It's a wide flower that grows in the Pacific, or in very warm countries," she explained. "It smells so wonderful and it's all about light and happiness and optimism." The second floral variety was the violet, which she notes, "grows in the shade, in the woods," and "you probably would step it on unless you pay attention." "It is strong, mysterious, mischievous and naughty ... and totally seductive," she proclaimed. "So the Frangipani and the violet are like the ying and yang."
She offered the following description for the fragrance's precious contents: "In this bottle I have put all my love, passion, wisdom, knowledge and all my secrets of seduction."
We also wanted to know the fashion icon's favorite place to spritz perfume. "I spray it everywhere, because the truth is, once you wear it you don't smell it anymore," she said. "But if you don't wear any and you finish getting ready, something is missing. It's just the punctuation: people smell it and then they recognize you. Fragrance is all about addiction and memory."
When asked her own beauty secret, von Furstenberg told us, "The most important thing is to accept who you are and make the best of it, and I think that confidence is the best secret for beauty." She continued, "The most important relationship is the relationship you have with yourself; be the woman you want to be."
DVF recently tweeted another mantra, "Try to do one thing that does not profit you every morning." Asked what that day's good deed was, she responded "I have a friend I've known all my life and she's been with a man I used to work with for 35 years, and today I made them decide to get married."