Facebook Timeline Lets You See Which Friends Have Unfriended You (PICTURES)
For many, being "unfriended" is a fate worse than death.
But it's not something you'd know about right away.
In previous versions of Facebook, there was no easy way to see which of your "friends" had decided to sever your relationship on the social network. Sure, you could always go to their profile to check, but that required the effort of remembering who they were.
While "old Facebook" made the online friendship breakup a bit less-in-your-face, the new Facebook Timeline makes it way easier to see who's decided to ax your online friendship.
If you've already enabled your new profile, you can check it out right now.
Here's how you can see who's unfriended you:
First, pick a year from your timeline (any year since you joined will do).
Then, find the "Friends" box for that year. This will tell you how many people you added in this year.
Click on the link that reads something like "Made ___ New Friends." That link will bring up a new box, showing all the people you were friends with. If an "Add Friend" button appears next to their name, then you are no longer friends.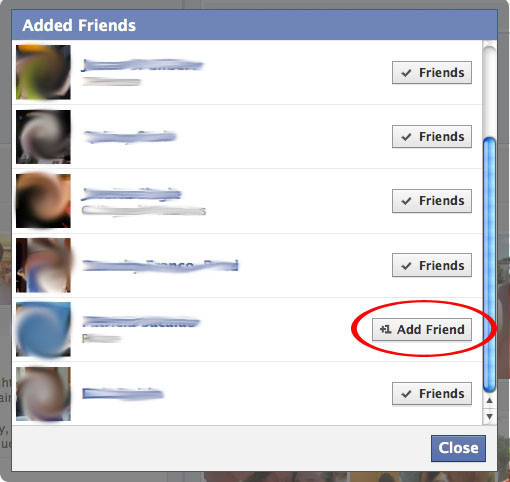 You can go through each year to see which friends you've made, and who you've lost.
Granted this goes both ways. The "Add Friend" button will appear next to the people you've unfriended, not just the people who have unfriended you. It doesn't show who ended the relationship.
This feature, however, lies at the core of the new Facebook changes, providing insight into how a person's life and online relationship change over time. As Mark Zuckerberg said at the f8 keynote, the new profile is really going to give people a chance to put their whole history online.
Whether users regard this as a privacy breach remains to be seen, but it must be noted that these "unfriendings" are only easily available to users looking at their own profiles. If someone else is looking at your "Friends" box from a certain year, they can see that you were friends once, but not the current status of the relationship.
Hat Tip to Buzzfeed for the find.
For a tour of Facebook's new Timeline, check out the slideshow (below).
TK Things You Need To Know About Facebook TImeline
While past iterations of the Facebook profile have featured a customizable photo that sat near the upper left of the page, users can now top their profile with a large "Cover" photo that stretches across the user's Timeline. This will be in addition to the Profile Picture, which will act as an avatar of sorts for News Feed updates and posting on others' walls.

The Timeline is wider than the old profile and displays content in two columns. Posts appear in a continuous stream in chronological order, from top (most recent) to bottom (oldest). The layout is very visual and emphasizes large pictures and important events.

The Timeline will feature a navigation panel along the right side of the page. This list of years, which can expand to display months, allows users to quickly jump to a spot in their timeline and view their posts from that moment in time. You can also manually scroll up and down through the timeline to search activity by month and year.

The new mobile interface on the Facebook app will also feature the Timeline re-design.

The private log stores all your facebook activity so you can choose what to share in your timeline and with whom.

Apps--including what you're listening to, reading, cooking, watching, etc.--will showcase your interests and activities in digest form so that friends can quickly catch up on what you're into and share with you simultaneously. For example, if you're listening to a song on a Rdio that's synched with Facebook, that activity will appear as an update in your friends' Ticker widget. That friend can then click your update, start listening to the same song, and even chat with you while doing so.

Timeline won't be available to users for "a few weeks," so savor that old profile while you still can (or start to get excited for the new one!). Read more about the new Facebook at their official blog here.