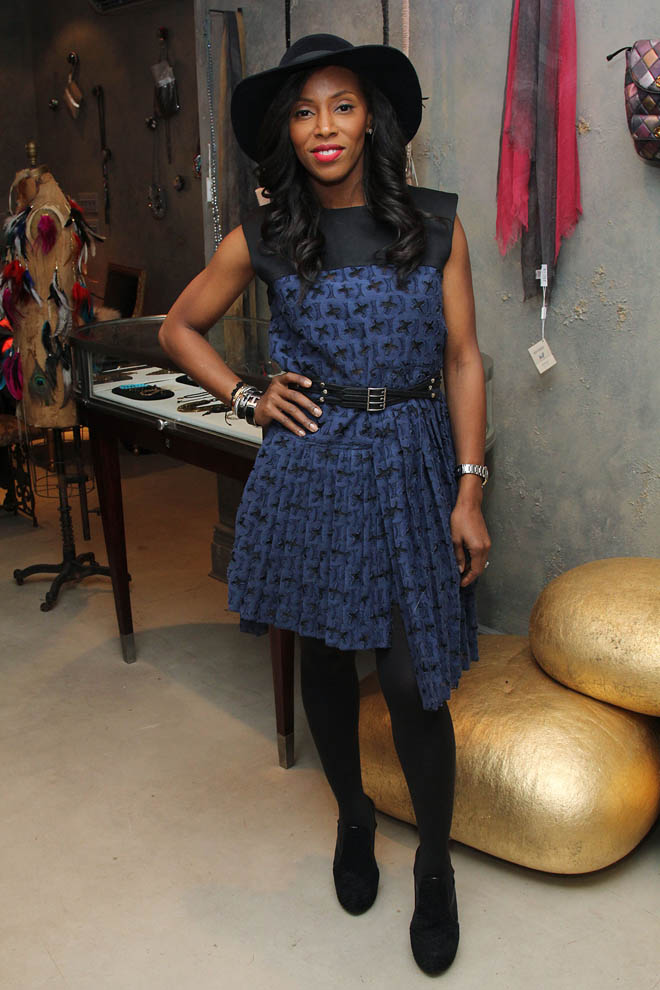 "For a very long time, everyone's been wanting to experience my world," says celebrity stylist June Ambrose, who's worked with a diverse array of personalities, such as Jay-Z, Alicia Keys, Kelly Ripa, Kim Cattrall and Mary J Blige. Ambrose recently signed on to give viewers a glimpse of her chaotic career via an upcoming new VH1 reality series (a la Rachel Zoe), set to premiere in early 2012. The series will follow Ambrose and her tireless team as they offer image makeovers to both emerging and established actors and musicians. We caught up with the style maven to talk about her go-to labels, working with Jay-Z and the secret to a true sartorial transformation.
What do you hope to share with viewers?
The dynamics of how to balance it all--being able to run your own business and company and still have a family. And just feeling like you're not drowning everyday, and still being stylish along the way. I think it's really about showing women and guys how to use fashion as a weapon, and be adventurous, and think outside of the box, and be fearless when it comes to discovering style.
What's the key to a good makeover?
Not being afraid of yourself, not being afraid of all eyes to be on you. Discovery's probably one of the biggest things about making over one's self. It's definitely not a surface experience. It's from the inside out. It's clinical, it's emotional, it's a process. Hopefully the audience will feel that journey and know that it's not something that happens overnight. The soul of the show is about wanting something great to come out at the end of it. An important part of making someone over is being able to allow them to imagine and think and have these aha, organic moments.
What's your favorite celebrity look you've created?
People to this day still talk about the fact that I put Missy Elliott in a garbage bag [for "The Rain (Supa Dupa Fly)" video]. But I also got Jay-Z on the over of GQ and L'Uomo Vogue. These moments have altered the perception of urban music. It's a very luxury lifestyle, and I think I've brought that aesthetic to that world in an organic and imaginative way. You think about the idea of Ne-Yo wearing a sequins jacket when at one time, only Michael Jackson wore sequins. When I worked with Mariah Carey, it was about rebuilding her brand and moving in another direction. When I worked with Mary J. Blige, it was about getting her red-carpet ready. When I worked with Kelly Ripa, it was about preparing her for television and daytime. I'm a brand builder; I think from a marketing perspective, from a critical perspective, from an iconic perspective. It's always been my goal to take each client and help them realize their full potential.
What's it like to work with Jay-Z?
It's a true work/friendship relationship. Our families are close. When I gave birth to my second child, it was a week before he called me into work for the cover of a magazine. Everyone was extremely sensitive and sympathetic to the fact, and I wanted to go back to work. I'd rather work with people I enjoy being around, and truly when I work with him he challenges me in a way that a client should.
What's the most challenging part of your job?
Taking a client and helping them to understand themselves in another way. It's kind of been my trade secret over the years to organically influence someone who wants to stay in the driver's seat. I want my clients to always feel like they're in control, because it helps them to interpret the wardrobe better. You can always tell when a celebrity or artist is mechanically designed. I like things to be very organic and I like my relationship with them to be that I'm almost the ghost-stylist, in a sense. I think the hardest part is that the relationship stays fresh. It's like if you're dating a guy, you have to keep finding ways to keep him interested. For me, it's constantly reinventing them, because everyone is always under construction.
Name one celebrity you haven't worked with, but would like to.
I'd love to work with Whitney Houston. She's iconic. The experience of bringing this voice back to the marketplace and having her be relevant among that 20-45 consumer is a very interesting dynamic and a task that I'm really up for. I know it would be good for her--spiritually, emotionally and physically, I think we could have some fun together.
Do you watch a lot of reality TV?
It's hard to watch a lot of TV when you have the kind of schedule that I have. When I get home, I'm trying to have dinner with the kids, get to bed, do some reading, catch up on my favorite shows-- "Modern Family," "Body of Proof." I watch a lot of old movies. The history of fashion is very fascinating to me, and I love the idea of costume design. I consume this concrete jungle every day of my life, and watch everything around me, so having a little bit of the past is a nice balance for me. There's something about "Bonnie and Clyde," and "Reservoir Dogs" and "Lady Sings the Blues." Creatively, they just bring me alive again.
How would you describe your personal style?
I'm daring, but there's this Renaissance woman that I can't escape -- just the idea of being a lady, that I love. And I love the idea of being over the top. I love punctuation. I'm the girl with the turban and the big glasses, and I'm consistent in things that I want to stick. I love being noticed when I walk into a room, and creating that kind of drama.
Who are your go-to designers?
I can go from loving Yves Saint Laurent to Gaultier to Zara and J.Crew. I wear a Gap denim shirt with a leopard gown during the day. I love sequins in the day, and the idea of taking things out of context. I think people should not be afraid to experiment when they're making an investment in high fashion or even a look for less. I'm not afraid to do the things I love when it comes to fashion, because style is the way I articulate my personality.
SUBSCRIBE TO & FOLLOW LIFESTYLE
HuffPost Lifestyle is a daily newsletter that will make you happier and healthier — one email at a time. Learn more