Spreading Freedom: Google, Microsoft And The War For The Web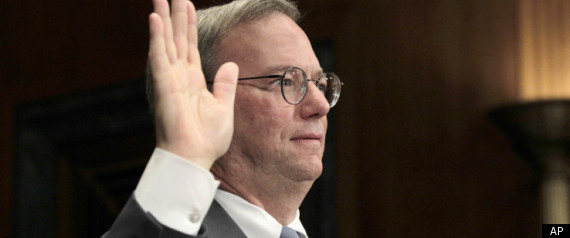 Microsoft is all too happy to be in the audience for Google's hearing rather than on the witness stand as they were in 1998, facing antitrust investigations that would dog them for years. Today, Google's market power is being scrutinized by Wisconsin Democratic Sen. Herb Kohl's subcommittee, the U.S. Department of Justice, the Federal Trade Commission and the European Union.
Many of those prosecutors are lobbied heavily by Google's enemies, Microsoft among them. But they may be all that stands between Google, which now handles some 90 percent of all searches worldwide, and a monopoly on the market for knowledge.
FROM PRC TO K STREET
Google's antitrust hearing comes more than a year after the search giant burned its relationship with the Chinese government by removing its filters, proclaiming that China's level of censorship was too blatantly in conflict with Google's oft-repeated corporate ethos, "Don't Be Evil." But the censorship was merely outsourced, with the government itself blocking certain searches from Google's Hong Kong operation.
Microsoft sees China as Google's soft underbelly. This summer's partnership with Baidu, whereby Microsoft will run the company's English-language searches, allies Microsoft with the same kind of company that it -- and U.S. federal agencies -- routinely accuse of violating intellectual property laws. Baidu, which accounts for 80 percent of the web searches in the world's most populous nation, has spent years on the Office of the United States Trade Representative's "Notorious Markets" list. Though rarely mentioned in American media, the USTR's blacklist serves as a critical warning to a broad array of global corporations, and is a key tool in U.S. foreign policy. The list isn't concerned with Baidu's monitoring or censoring of political speech, however -- it takes issue with counterfeiting and piracy that U.S. interests find threatening.
On Thursday, Treasury Secretary Timothy Geithner put the issue in blunt terms. "They, China, have made possible systematic stealing of intellectual property of American companies and have not been very aggressive to put in place the basic protections for property rights that every serious economy needs over time," Geithner told a forum in Washington. "We're seeing China continue to be very, very aggressive in a strategy they started several decades ago, which goes like this: You want to sell to our country, we want you to come produce here ... if you want to come produce here, you need to transfer your technology to us."
One of those companies on the receiving end of the Chinese invitation is Baidu's partner, Microsoft, which is now the most aggressive U.S. software company in the anti-piracy lobbying fight, forging a key alliance between the tech community and the entertainment industry. Yet in multiple "Notorious Markets" reports, USTR was particularly critical of Baidu's ability to direct search engine queries toward pirate entertainment sites. At home, Microsoft is demanding tough enforcement of software and entertainment piracy. Abroad, it's forging a relationship with a company USTR labeled a top offender of music piracy.
On Nov. 18, two weeks after the Republican sweep of the House, a team of lobbyists sat down with Victoria Espinel, a senior official in the White House's Office of Management and Budget, to try and soften Baidu's image. Espinel, an Obama appointee, is in regular contact with the USTR in her role as intellectual property enforcement coordinator, according to an administration official.
Espinel, through an administration spokesperson, said she remembers Victor Liang, Baidu's general counsel, and James Mendenhall, a Bush-era general counsel and assistant U.S. trade representative, at the November meeting. According to Baidu's lobbying disclosure forms, Yabo Lin and Lei Li, China-born lobbyists, also registered with Mendenhall as having lobbied the OMB on the "Notorious Markets" report. Mendenhall is the kind of post-partisan lobbyist that a foreign businessman like Liang needs to help navigate the governmental maze. Mendenhall, Lin and Li work for the lobby shop Sidley Austin. A Baidu official acknowledged to HuffPost that the company had engaged Sidley Austin but declined to comment specifically on the OMB meeting.
Lin is a Palo Alto-based partner and Li is in Beijing, where he represents the next phase of the revolving door -- he worked for eight years as a top official in the People's Republic of China's Ministry of Commerce. Sidley Austin's web lobbying is now run by Rick Boucher, a Democrat who lost his House seat in 2010. He chaired the subcommittee with oversight of the Internet and championed Internet privacy.
Reached in Palo Alto, Lin said, "That was long ago. I have no comment." He has not terminated his contract with Baidu, according to disclosure forms. Li and Mendenhall did not respond to requests for comment.
At the time of the report, Microsoft was already engaged with Baidu in the smartphone market. In July, the two companies would announce their search engine partnership. A few weeks after that, Baidu would ink a licensing deal with major U.S. record labels to distribute songs in China, prompting praise from USTR -- which still keeps Baidu on its notorious list. Baidu also keeps tabs with USTR-- a Baidu official told HuffPost that his company worked hard to ensure the agency was aware of the music licensing deal this summer.
The fight over the closely watched report is just one skirmish in Washington, but it's an illustration of the projection of U.S. power abroad on behalf of corporate interests, both foreign and domestic.
That's a lesson Google learned late. "I recommended to them earlier that it'd be a nice thing for them to stop by and testify voluntarily, also made it very clear where we stand -- I always prefer voluntarily -- this is a case where there would be bipartisan support for a subpoena," Judiciary Committee Chairman Leahy told HuffPost before Google Chairman Schmidt testified this week. Google, Leahy said, eschewed Washington representation for too long. "Sometimes a company should pay attention early on, not just when matters happen," he said. "But I can't tell them, nor would I, who they should hire or not."
The company seems to be trying to make up for lost time. All year, Google has been papering Washington with lobbying contracts and ad buys the likes of which haven't been seen since the fight between Wall Street and big box retail stores over swipe fee rates.
Google's lobbying armada knows its way around Washington. Ninety-one percent of them spun through the revolving door between government and K Street, according to a HuffPost analysis of lobbying disclosure reports and data collected by the Center for Responsive Politics. Two of the new Google lobbyists, Louis Dupart of The Normandy Group and Gary Slaiman of Bingham McCutchen, served on the Senate antitrust subcommittee itself. They'll join the committee's former chief intellectual property counsel, also a Google lobbyist.
Leahy said the lobbying binge won't give Google an advantage. "They can hire all they want," he said. "They" -- the lobbyists -- "are not the ones that testify. They're not the ones asked the questions."
The hiring spree isn't limited to registered lobbyists. Another key form of influence comes from well-connected lawyers and lobbyists who do not register to lobby. Google, like many other companies, takes advantage of a lobbying disclosure loophole allowing lobbyists to skip registering if they spend less than 20 percent of their time contacting officials. This loophole is often used by former lawmakers who can't register to lobby according to revolving door rules or who don't want to show up on official registrations.
Google employs three firms that boast four former members of Congress on staff, including former House Majority Leader Dick Gephardt, former House Appropriations Committee Chair David Obey, Blue Dog Democrat John Tanner and Texas Republican Henry Bonilla. Gephardt's name appears on the registration form for his firm's representations of Google, but he is not listed on their quarterly filings. Neither Obey, Tanner nor Bonilla are listed on lobbying disclosure firms for Google, but all are top principals at firms retained by the company. Whether they pick up the phone or not, their association with Google becomes part of the political dynamic.
The company is also well known to have close friends at the highest levels of the White House. Earlier this year, when Google inked a $500 million settlement with the Justice Department for illegally steering consumers toward companies advertising Canadian prescription drugs, a snap press conference was held in Rhode Island in August, with little heads up to the media. Even the Wall Street Journal's Thomas Catan, who broke the news of the criminal probe and followed it relentlessly, was caught flat-footed, three people familiar with the matter said. Catan got the press conference details nine minutes before it started, with no call-in line or web feed, nor could he get a tape or transcript. That may have been as much to shield the administration as Google. Late last year, Google organized a summit at the White House billed as addressing online pharmaceutical piracy. "As the administration has made clear, no one company can solve this problem," a top Google attorney said at the time, reflecting the company's hope that the issue would be seen as industry-wide rather than specific to Google. Victoria Espinel's praise of Google at the summit became an embarrassment when it became clear Google was under investigation at the time it convened the gathering.
At Wednesday's hearing, Schmidt made news by admitting that he was aware of what Google had been doing regarding the drugs.
Google didn't always flex such muscle. Just five years ago, the search giant spent just $800,000, employing 31 lobbyists, putting them nowhere near Microsoft, which spent $9 million and had more than 120 lobbyists on call that year. By 2010, however, Google ranked as the third-highest lobbying spender in the tech industry, behind Microsoft and Hewlett-Packard. This year, Google is running even with Microsoft, on pace to spend millions more on lobbying than the search giant has in any previous year.
Microsoft's contributions have found a home at the Senate Judiciary Committee, where committee members have received $251,500 from Microsoft's PAC since 2006. Google, meanwhile, is spreading its money around to Washington institutions and media, recently sponsoring everything from the local NPR station, WAMU, to a widely read morning email, Politico's Playbook -- an ad buy that retails at $30,000 at week, a person familiar with it said. Its sponsored ads have been extremely tactical, highlighting how Google has helped particular small businesses in particular states. But not just any states. The first ad highlighted a cheesemaker in Wisconsin, home to Herb Kohl, the antitrust Senate subcommittee chair and, conveniently for Google, Rep. Jim Sensenbrenner, the chair of the House subcommittee on Intellectual Property, Competition, and the Internet.
Subscribe to the HuffPost Hill newsletter!