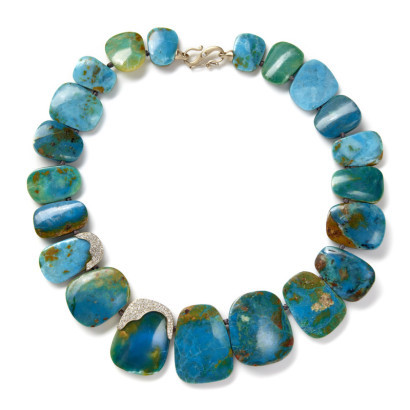 Courtesy of Monique Péan


Monique Péan's not only a jewelry designer, she's fast become one the fashion industry's most celebrated artisans. Her pieces are all handmade, with sustainable materials derived from natural habitats in places around the globe, like South America and Alaska.
This Peruvian Opal necklace for fall is one stunning example of Monique's exquisite craftsmanship and impeccable taste. And the real genius behind this bling? It can be worn with jeans and a tee just as easily and elegantly as it can be worn with any gown or cocktail dress.
Peruvian opal necklace with conflict and devastation free white diamond surf pave and 18-carat recycled white gold, $15,820 available at Barneys New York.


Here's a look at past objects of our affection:
Lisa Marie Fernandez For Peter Pilotto Bikini: Object Of My Affection

Fendi Baguette: Object Of My Affection

Louis Vuitton's Merry-Go-Round Strap Mule: Object Of My Affection

Object Of My Affection: Mary Katrantzou For Longchamp

Object of My Affection: Proenza Schouler Evening Clutch

Object Of My Affection: Alexander Wang Chloe Leather Sandals

Object Of My Affection: Bert Stern's Marilyn As Jacqueline

Object Of My Affection: Doo.Ri Draped Dress

Object Of My Affection: Vera Wang Sunset Mini Skirt

Object Of My Affection: Kelly Wearstler Hooded Ball Ring

Object of My Affection: Zac Posen's Go-To Cape

Object Of My Affection: J. Mendel Peplum Dress

Object of My Affection: Ferragamo's Mya Gancio Lock Shoulder Bag

Object Of My Affection: Todd Oldham Embellished Tank Dress

Object Of My Affection: Repossi Two Row Berbere Pave Phalanx Ring

Object Of My Affection: H.Stern Snowflake Earrings

Object of My Affection: Jimmy Choo's Mock Croc Rika Coffee Cup Holder

Object of My Affection: Miu Miu Glitter Sneakers

Object of My Affection: Stella McCartney Falabella Mini Cross-Body Bag

Object Of My Affection: J Brand/Christopher Kane Jacket

Object Of My Affection: Ileana Makri For The Row Ring

Object of My Affection: Jonathan Saunders for Smythson Notebook

Object of My Affection: Delfina Delettrez for Alain Mikli Sunglasses

Object of My Affection: Erickson Beamon Swarovski Necklace

Object of My Affection: Nicholas Kirkwood Lace-Up Shoe Bootie

Object of My Affection: Chloe Clutch

Object of My Affection: Statement Stones

Object of My Affection: An Elemental Clutch

Object of My Affection: Coin Lady

Object of My Affection: All That Glitters

Object of My Affection: Pedal to The Metal

Object of My Affection: A Killer Heel

Object of My Affection: A Buzzworthy Necklace

Object of My Affection: Liquid Assets

Object of My Affection: Star Light, Star Bright

Object of My Affection: Bright Lights, Big City

Object of My Affection: Feminine Sportiff

Object of My Affection: Leather and Lace