British expat Michael David Cohen lost his right leg below the knee, and suffered traumatic bites to his left in a shark attack in Cape Town, South Africa after ignoring shark spotting warnings posted and sounded on the beach.
Had Cohen lost his life in the attack, he would have been a potential candidate for a Darwin Award.
From MSNBC, "Spotters had sighted the shark 90 minutes before the attack and closed the beach. The white shark flag was raised and the siren set off. Cape Town officials told the South African Press Association that, when the man entered the water, the beach was still closed. A shark flag, indicating the presence of a great white, was flying. "
Empty beach. Known great white hang out spot. 90 minute warning. Sirens sounded. Flags raised. Yes, definitely a fantastic time to take a dip, 50 yards out no less.
Take note of the signs.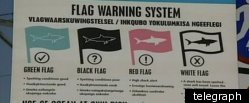 Most beach goers not actively vying for a Darwin Award see an empty beach, a waving white flag with a shark on it which proclaims "There's a great white shark in the water! Maybe three!" and decide to go have a beer somewhere on dry land.
Cohen, much to his misfortune, didn't make that decision and is instead lucky to be alive. According to The Telegraph, Cohen was saved by quick thinking first responders. A makeshift tourniquet made of a wetsuit was fastened around his right leg, which according to the operating surgeon, saved his life.
Shark spotter and friend of Cohen, Monwabisi Sikweyiya told the Telegraph "He (Cohen) was well known to all of us because he was a regular swimmer here. He was very interested in sharks and respected them, but never took any notice of our warnings. If he wanted to swim, he swam. We warned him often that he was taking a risk, but he always said 'if a shark takes me, then blame me, not the shark'."
Adding insult to injury, an amateur video of the scene (video below) shows at least one shark loitering in the lagoon after the attack.
SUBSCRIBE TO & FOLLOW LIFESTYLE
HuffPost Lifestyle is a daily newsletter that will make you happier and healthier — one email at a time. Learn more