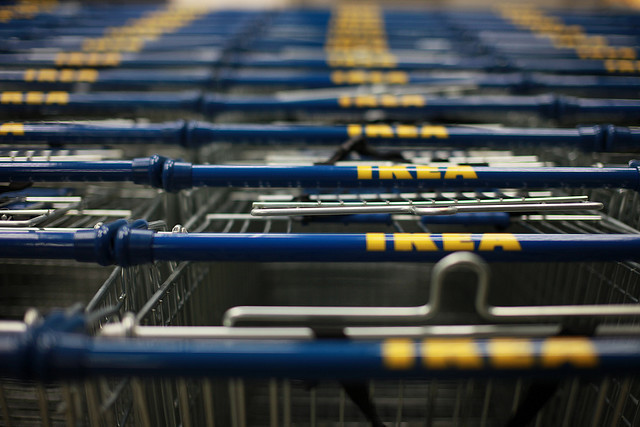 In any conversation about IKEA, there tends to be two reactions: One of absolute love and one that's closer to a mild panic attack. We admit to both, depending on what day we visit the store--Saturday or Sunday afternoons will clearly inspire the latter. No matter what end of the IKEA spectrum you're on, the new behind-the-scenes look at the behemoth brand by Lauren Collins in the October 3, 2011 issue of The New Yorker is a must-read.
In it, we learned that IKEA is the world's third-largest consumer of wood, that it's been owned by a private foundation since 1982 and that there is a method to the madness of how products are named. Bookcases are named after occupations, curtains after mathematics and bathroom products after bodies of water, though some unfortunate names can sometimes sneak in (FANNY, anyone?).
Also, IKEA hires models. Sort of.
IKEA is obsessed with lista, which translates as "making do." IKEA employees, including the C.E.O., travel in coach. To save money, the company uses employees as models for its catalogues. "I'm tall, so the furniture looks too small when I'm standing by it," one told me. "So I usually have to be sitting or lying down on a couch."
Its founder, Ingvar Kamprad, is not the sort of person you'd ask to borrow $5 from.
Kamprad drives a beat-up Volvo. He is reported to recycle tea bags. He is known to pocket the salt and pepper packets at restaurants. He has ranked as high as fifth on Forbes's list of the world's richest people.
Employees are referred to as "co-workers" and are OK with you photographing their bathrooms.
A recent edition of ReadMe, IKEA's internal magazine, featured an article entitled "Step Inside--into two co-workers' bathrooms," in which a human-resources employee from Lisbon discussed her bidet.
And there was some shady business with a charity.
In 2009, Sweden's largest television station, SVT, revealed that IKEA's money--the three per cent collected from each store--does not actually go to a charitable foundation in Holland, as IKEA had led people to believe. Rather, as Magnus Svenungsson reported, Inter IKEA is owned by a foundation in Liechtenstein, called Interogo, a corporate rainy-day fund. Interogo, which has amassed twelve billion dollars, is controlled by the Kamprad family.
Again, this article is definitely worth a look. To view it in full, visit The New Yorker (note: it's behind a paywall).
Also, The New Yorker will be hosting a live chat with Lauren Collins about IKEA, today at 3 P.M. To participate, go to Ask the Author. We'll see you there.
SUBSCRIBE AND FOLLOW
Get top stories and blog posts emailed to me each day. Newsletters may offer personalized content or advertisements.
Learn more